Functional Fitness. Real Results.
F45 Plaza Midwood
F45 Training Plaza Midwood offers functional group fitness classes, reimagined. We are more than just a gym. We are the total wellness solution for every body. With 5,000+ dynamic, energy-packed movements and over 80 workouts offered, we help you unlock your inner athlete. We are the workout you always wanted with the team you didn't know you needed. New to F45 Training?
Team Training. Life Changing.
F45 Plaza Midwood
Mark Wahlberg said it best: It's not about mirrors, mood lights or followers. It's about what you did with your time. It's about how you feel when you are finished and who encouraged you along the way. Ready to join the movement?
Team Training. Life Changing.
F45 Plaza Midwood
F45 Training is functional group fitness, with the effectiveness and attention of a certified personal trainer. Our workouts are designed for every body. Join us to find out why we are rated #1 Gym by Men's Journal in the US and Canstar Blue in Australia.
Class Schedule
Experience the power of F45 Plaza Midwood today and start feeling the difference today.
THE RESULTS ARE IN
SUCCESS STORIES
MENTAL & PHYSICAL HEALTH
After 3 years and 500+ classes into F45, my mental and physical health have drastically improved.
STAMINA AND ENDURANCE
My focus is building stamina and endurance to combat multiple sclerosis. I'm 61 and in the best shape of my life.
WEIGHT LOSS
I've lost 187 lbs since my very first workout in 2021. F45 has become the most joyful place in my life.
BODY TRANSFORMATION
Through F45, I have lost 13 lbs of fat, gained 4 lbs of muscle and descreased by body fat by 6%.
CANCER SURVIVAL
Three years ago I got cancer. It was my F45 family and friendships that got me through it. My team is always there for me.
FEEL THE LOVE
WHAT OUR MEMBERS SAY ABOUT US
I recently had the pleasure of joining the Plaza Midwood F45 Gym, and I can confidently say that it has been a game-changer in my fitness journey. From the moment I walked through the doors, I was greeted by a warm and friendly staff who made me feel instantly welcomed. The personal training and challenging workouts provided by this gym have truly exceeded my expectations.
This place is the bomb dot com. I love the format; there's pretty pictures so I don't forget what I'm doing and the coaches/ trainers are super helpful and hands-on. The workouts are diverse, interesting, and switch it up over the week and by introducing new cycles. Coaches are always willing to help with modifications, or help push you to the finish line. If you're thinking about it, do it!
My safe space! The community, energy, and motivation are unmatched and I have loved being a member here. The coaches and other members have become friends and I enjoy coming to each and every class. Couldn't recommend this place more!
Absolutely love this place! I finally enjoy going to workout and I'm excited each time! I feel like I'm getting a better work out in the 45 mins here than I did in a hour and a half to two hours at the normal gym!
I'd definitely recommend this F45 location! The coaches, and even the owner, are all engaged throughout the classes and they'll push you to work harder. I've not seen this same level of engagement by the coaches in other group fitness gyms.
Can't say enough good things about this F45. From the first time I walked into the gym I felt the welcoming, positive, friendly, & supportive energy. The workouts are endlessly diverse and always challenging. The trainers are incredibly knowledgeable, push you to challenge yourself, make sure you have correct form, and cheer you on the whole time. The atmosphere is energetic & non-judgmental and I love the music/playlists they blast. 10/10 would recommend!
TEAM TRAINING
LIFE CHANGING
TEAM TRAINING
LIFE CHANGING
TEAM TRAINING
LIFE CHANGING
TEAM TRAINING
LIFE CHANGING
TEAM TRAINING
LIFE CHANGING
TEAM TRAINING
LIFE CHANGING
MEET THE TRAINERS
OUR FITNESS TEAM
F45 trainers are in a league of their own, delivering the expert guidance and unconditional support of a one-on-one personal trainer. Get to know the F45 trainers near you before your next F45 class.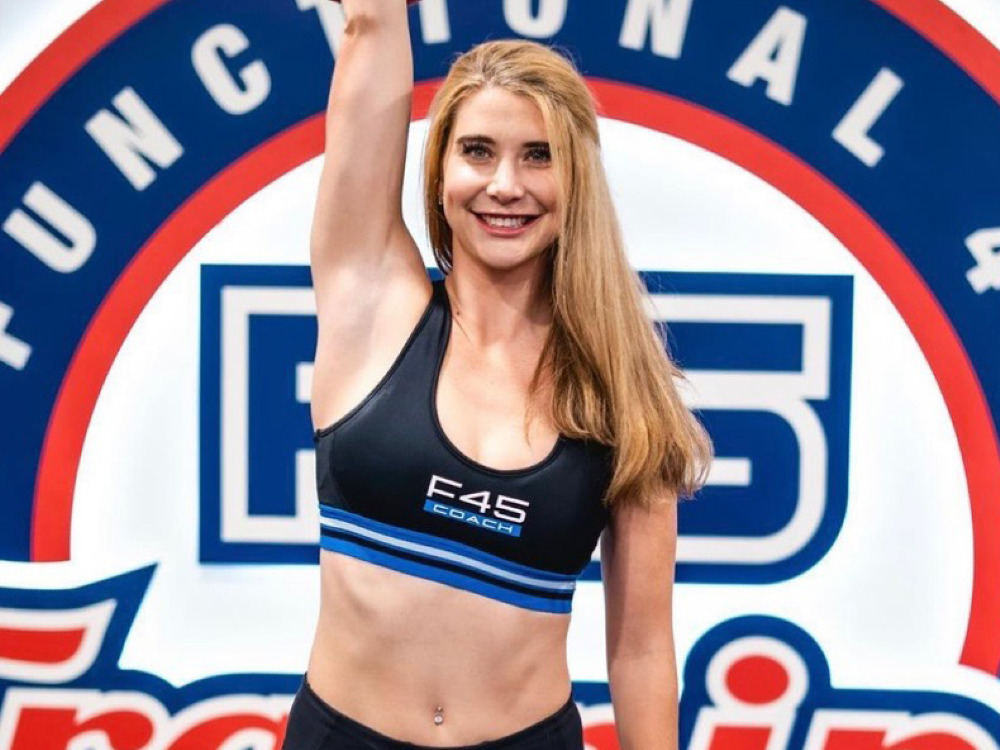 Steven Sherwood
Trainer, Head Trainer
READY TO JOIN THE SQUAD?
LET'S GO!