Functional Fitness. Real Results.
F45 QUARRY BAY
F45 TRAINING QUARRY BAY offers functional group fitness classes, reimagined. We are more than just a gym. We are the total wellness solution for every body. With 5,000+ dynamic, energy-packed movements and over 80 workouts offered, we help you unlock your inner athlete. We are the workout you always wanted with the team you didn't know you needed. New to F45 Training?
Team Training. Life Changing.
F45 QUARRY BAY
Mark Wahlberg said it best: It's not about mirrors, mood lights or followers. It's about what you did with your time. It's about how you feel when you are finished and who encouraged you along the way. Ready to join the movement?
Team Training. Life Changing.
F45 QUARRY BAY
F45 Training is functional group fitness, with the effectiveness and attention of a certified personal trainer. Our workouts are designed for every body. Join us to find out why we are rated #1 Gym by Men's Journal in the US and Canstar Blue in Australia.
Class Schedule
Experience the power of F45 QUARRY BAY today and start feeling the difference today.
THE RESULTS ARE IN
SUCCESS STORIES
Sam lost 27% of his body fat
In 45 days Sam gained 3.3kg of muscle mass and shed 7.6kg of body fat.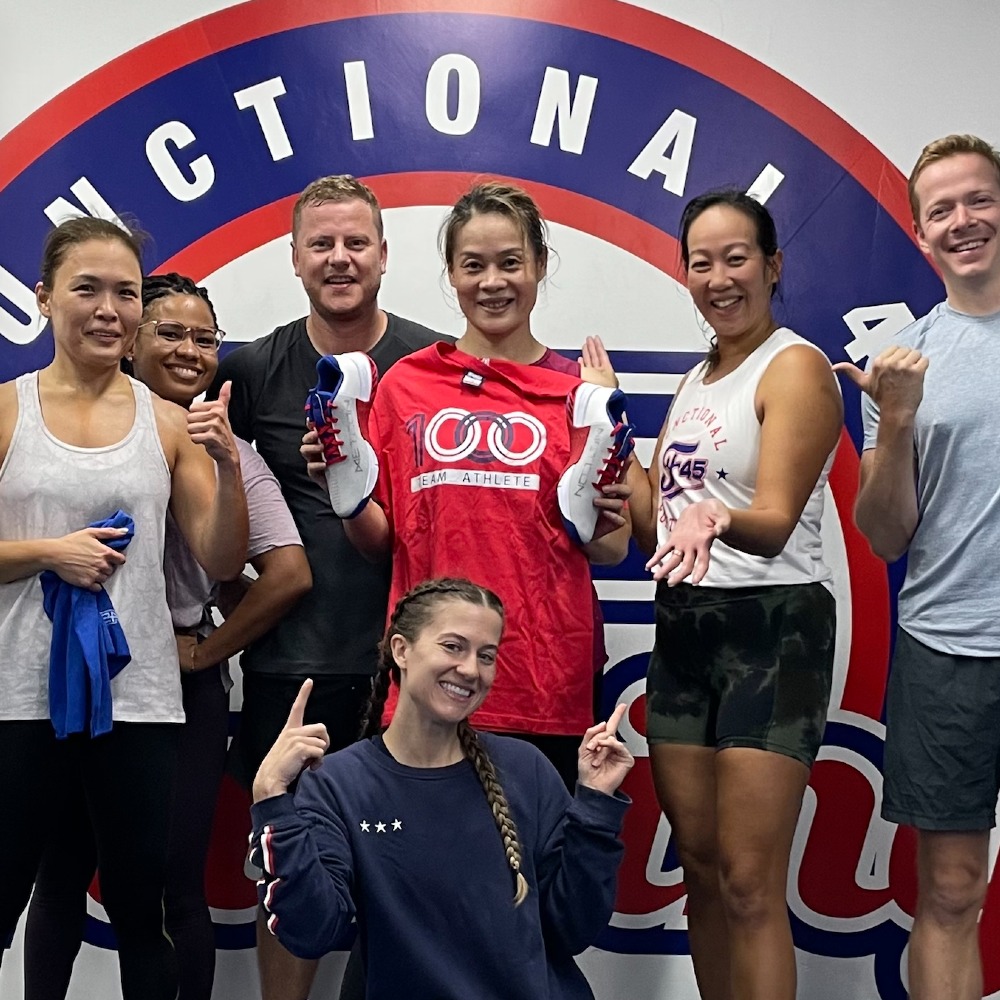 Power of community
Anna defies language barriers and achieved the awe-inspiring 1000 Class Milestone!
Training after injury
Chronic knee pain stopped Darlene from exercising. After a year at F45QB she's running and jumping pain-free!
FEEL THE LOVE
WHAT OUR MEMBERS SAY ABOUT US
F45 Quarry Bay is The best F45 studio in Hong Kong. They have an amazing team of trainers who are welcoming, non-judgmental, and here to guide and support you. I am coming back to F45 after a long time of not working out and have been met with so much encouragement and good vibes. I felt intimidated to start but the team really put me at ease. Shout out and thanks to Leah 🩷 +Sam +Larry +Keeley 🙌 The studio also has separate ladies and gents changing rooms equipped with rain showers, shampoo, conditioner, body wash, towels and hair dryers so it's really convenient. If you live or work in the area, it's the best!
I've tried almost all the F45 gyms on Hong Kong Island and without a doubt Quarry Bay has the best facilities and coaching team. The gym is spacious and well ventilated, the speakers are Sonos, the towels are always clean and never musty-smelling (frequent gym goers will know what I'm talking about!). Most importantly, the coaching team is heavily engaged in your success, know how to push you to reasonable limits, and are just generally very nice people. The community that the gym has built is also very nice – old members deliberately go out of their way to welcome new ones, so the environment is always very encouraging, even for newbies. Highly recommend.
I love F45 training at Quarry Bay. The team is amazing and really look after you. I never liked going to the gym until I found F45QB. The music, the members and the staff make it really fun and enjoyable!
I have been going to F45 Quarry Bay for 2 years now. I really love it. Everything is great. The format, tough but rewarding, the crew, very caring and friendly, the challenges to motivate you to go beyond your limits and the studio, neat and clean.
I recently joined F45 Quarry Bay and I'm so happy with the experience! There are lots of class times and I never have difficulty getting into a class that I want. The trainers are amazing- really knowledgeable, organized, and personable. They all greet me by name and work to help me reach my personal goals.
TEAM TRAINING
LIFE CHANGING
TEAM TRAINING
LIFE CHANGING
TEAM TRAINING
LIFE CHANGING
TEAM TRAINING
LIFE CHANGING
TEAM TRAINING
LIFE CHANGING
TEAM TRAINING
LIFE CHANGING
MEET THE TRAINERS
OUR FITNESS TEAM
F45 trainers are in a league of their own, delivering the expert guidance and unconditional support of a one-on-one personal trainer. Get to know the F45 trainers near you before your next F45 class.
Christian Axiotes
Trainer
Leah Birkby
Studio Manager
READY TO JOIN THE SQUAD?
LET'S GO!