Functional Fitness. Real Results.
F45 Jarntorget
F45 Training Jarntorget offers functional group fitness classes, reimagined. We are more than just a gym. We are the total wellness solution for every body. With 5,000+ dynamic, energy-packed movements and over 80 workouts offered, we help you unlock your inner athlete. We are the workout you always wanted with the team you didn't know you needed. New to F45 Training?
Team Training. Life Changing.
F45 Jarntorget
Mark Wahlberg said it best: It's not about mirrors, mood lights or followers. It's about what you did with your time. It's about how you feel when you are finished and who encouraged you along the way. Ready to join the movement?
Team Training. Life Changing.
F45 Jarntorget
F45 Training is functional group fitness, with the effectiveness and attention of a certified personal trainer. Our workouts are designed for every body. Join us to find out why we are rated #1 Gym by Men's Journal in the US and Canstar Blue in Australia.
Class Schedule
Experience the power of F45 Jarntorget today and start feeling the difference today.
THE RESULTS ARE IN
SUCCESS STORIES
MENTAL & PHYSICAL HEALTH
After 3 years and 500+ classes into F45, my mental and physical health have drastically improved.
STAMINA AND ENDURANCE
My focus is building stamina and endurance to combat multiple sclerosis. I'm 61 and in the best shape of my life.
WEIGHT LOSS
I've lost 187 lbs since my very first workout in 2021. F45 has become the most joyful place in my life.
BODY TRANSFORMATION
Through F45, I have lost 13 lbs of fat, gained 4 lbs of muscle and descreased by body fat by 6%.
CANCER SURVIVAL
Three years ago I got cancer. It was my F45 family and friendships that got me through it. My team is always there for me.
FEEL THE LOVE
WHAT OUR MEMBERS SAY ABOUT US
F45 and its community have been a total game-changer for me! I've tried all sorts of exercise stuff, like regular gyms, group training, personal trainers, and also YouTube! but nothing really clicked because of my not-so-healthy habits. Then came F45, and wow, I'm totally hooked! The coaches provide crystal-clear instructions, demonstrating each exercise in every session, making it easy to follow. F45 provides a welcoming and dynamic environment that I can't wait to be a part of each time. If you want a transformative fitness experience, I wholeheartedly recommend F45!
If you want results, fun and a place where you feel at home and hang out with everyone, then f45 is the best choice
I have not trained for at least 7 years since I had my both children. I was a little resistance towards F45 when I stepped in the first time, however Emma and Lovisa has changed me. Today is my 8th class and I am feeling so so motivated. The training been challenging and crazy ( yes crazy ) but different each day! Most importantly, I have got lots of guidance and encouragement from the team, same-time I have lots of fun too while going through the pain 🙂 kudos to F45! I will definitely want to continue my journey with you …
This is my 9th month of training at F45 Järntorget, and I am really happy to have joined this amazing community where I have the pleasure to be guided by amazing coaches, and also meeting amazing people through all the members! The F45 coaches are really the Formula 1 of coaches in this concept of training, simply because they keep on eye on you all the time to adjust your posture and make you take out the most efficiency of your biomechanics during every session. The vibes and environment that these people creates every day it is amazing and really inspire you to keep your energy boosted every single day. And the most important to me. Thank you for your always welcome smiles during evrey session.
You know that feeling when you go to a new gym, are all psyched about it, train for two weeks and loose your motivation out of boredom and loss of discipline? Yeah, that's NOT gon'na happen at F45 Järntorget! For the first time in years (after three kids) I'm super excited of going to the gym and are addicted to this kind of workout! Started with a 28 day kick off and signed up for a year! Love training in the morning and not having to think anything – Just showing up and doing as your told. Leaving sweaty and energized! Always welcomed and helped by the awesome coaches and supported by others training! It's not only a gym, ore a team – it's a community! Thank you for my new life!
High energy, lots of fun and a mega workout. F45 is really the kickstarter I need to get into a proper workout routine with results.
I've been looking for this all my life. Great classes. Great coaches. Great people! Worth every penny.
This F45 is a hidden fitness gem! The trainers are knowledgeable and motivating, the workouts are varied and challenging, and the sense of community is incredible. The facilities are top-notch, and the scheduling is convenient. Highly recommended for a fun and effective workout experience!
TEAM TRAINING
LIFE CHANGING
TEAM TRAINING
LIFE CHANGING
TEAM TRAINING
LIFE CHANGING
TEAM TRAINING
LIFE CHANGING
TEAM TRAINING
LIFE CHANGING
TEAM TRAINING
LIFE CHANGING
MEET THE TRAINERS
OUR FITNESS TEAM
F45 trainers are in a league of their own, delivering the expert guidance and unconditional support of a one-on-one personal trainer. Get to know the F45 trainers near you before your next F45 class.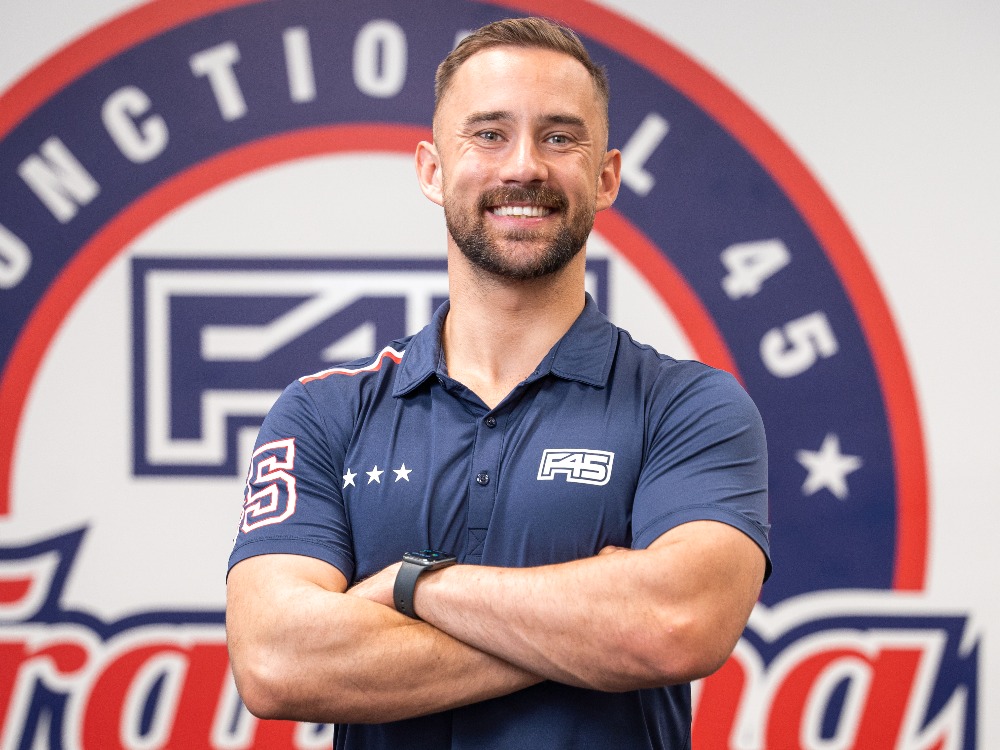 Jay Clark
Trainer, Membership Advisor, Owner, Studio Manager
Lovisa Forsman
Trainer, Studio Manager
READY TO JOIN THE SQUAD?
LET'S GO!