Functional Fitness. Real Results.
F45 Lincoln Square South
F45 Training Lincoln Square South offers functional group fitness classes, reimagined. We are more than just a gym. We are the total wellness solution for every body. With 5,000+ dynamic, energy-packed movements and over 80 workouts offered, we help you unlock your inner athlete. We are the workout you always wanted with the team you didn't know you needed. New to F45 Training?
Team Training. Life Changing.
F45 Lincoln Square South
Mark Wahlberg said it best: It's not about mirrors, mood lights or followers. It's about what you did with your time. It's about how you feel when you are finished and who encouraged you along the way. Ready to join the movement?
Team Training. Life Changing.
F45 Lincoln Square South
F45 Training is functional group fitness, with the effectiveness and attention of a certified personal trainer. Our workouts are designed for every body. Join us to find out why we are rated #1 Gym by Men's Journal in the US and Canstar Blue in Australia.
Class Schedule
Experience the power of F45 Lincoln Square South today and start feeling the difference today.
THE RESULTS ARE IN
SUCCESS STORIES
MENTAL & PHYSICAL HEALTH
After 3 years and 500+ classes into F45, my mental and physical health have drastically improved.
STAMINA AND ENDURANCE
My focus is building stamina and endurance to combat multiple sclerosis. I'm 61 and in the best shape of my life.
WEIGHT LOSS
I've lost 187 lbs since my very first workout in 2021. F45 has become the most joyful place in my life.
BODY TRANSFORMATION
Through F45, I have lost 13 lbs of fat, gained 4 lbs of muscle and descreased by body fat by 6%.
CANCER SURVIVAL
Three years ago I got cancer. It was my F45 family and friendships that got me through it. My team is always there for me.
FEEL THE LOVE
WHAT OUR MEMBERS SAY ABOUT US
"Such an amazing place. The coaches are motivating the ambiance is fantastic. There is only pressure to push and better yourself. Each day is a different workout making it impossible to get bored. Highly recommend."
"I started at F45 about a month ago, and absolutely love the classes and the trainers. The trainers are really helpful with form and alternative sets for the newbies."
"I am a true f45 lover!!!! The coaches are very knowledgeable and friendly. The studio is well equipped. I started in the flatiron location but it was a bit far from my apt. This location is perfect. Is goooood to be back!"
"F45 gives you such an amazing workout! Each day and each week you can experience a completely different training style and challenge yourselfe everytime! I can recommend especially the cardio-based workouts – you are going to burn calories like hell! The coaches are all super friendly and help you with the execution of the exercices. Love coming here – 10/10 recommend! :)"
"I had the opportunity to drop into this studio while on a short visit to NYC. I am part of another studio in a different state and I was very excited to get my F45 fix while away from home. The coaches here were very welcoming. They were enthusiastic and didn't miss a beat with the in-class challenges. I definitely will be back next time I'm in town. Thanks for a great workout Lincoln Square South! 💪🏼❤️"
"Amazing workout and the coaches are all top notch! The studio is incredibly well kept and has all the equipment you could need. Love coming here! 10/10 recommend 💪🏻"
"Signed up for a 10 pack of classes after a one week trial period. It's been more than six sessions already, and every one is different, and every one is a challenge. Looking forward to the next class. The trainers and staff are just excellent, and the flexibility of the schedule works with my professional schedule. Am really glad they moved into the neighborhood!"
TEAM TRAINING
LIFE CHANGING
TEAM TRAINING
LIFE CHANGING
TEAM TRAINING
LIFE CHANGING
TEAM TRAINING
LIFE CHANGING
TEAM TRAINING
LIFE CHANGING
TEAM TRAINING
LIFE CHANGING
MEET THE TRAINERS
OUR FITNESS TEAM
F45 trainers are in a league of their own, delivering the expert guidance and unconditional support of a one-on-one personal trainer. Get to know the F45 trainers near you before your next F45 class.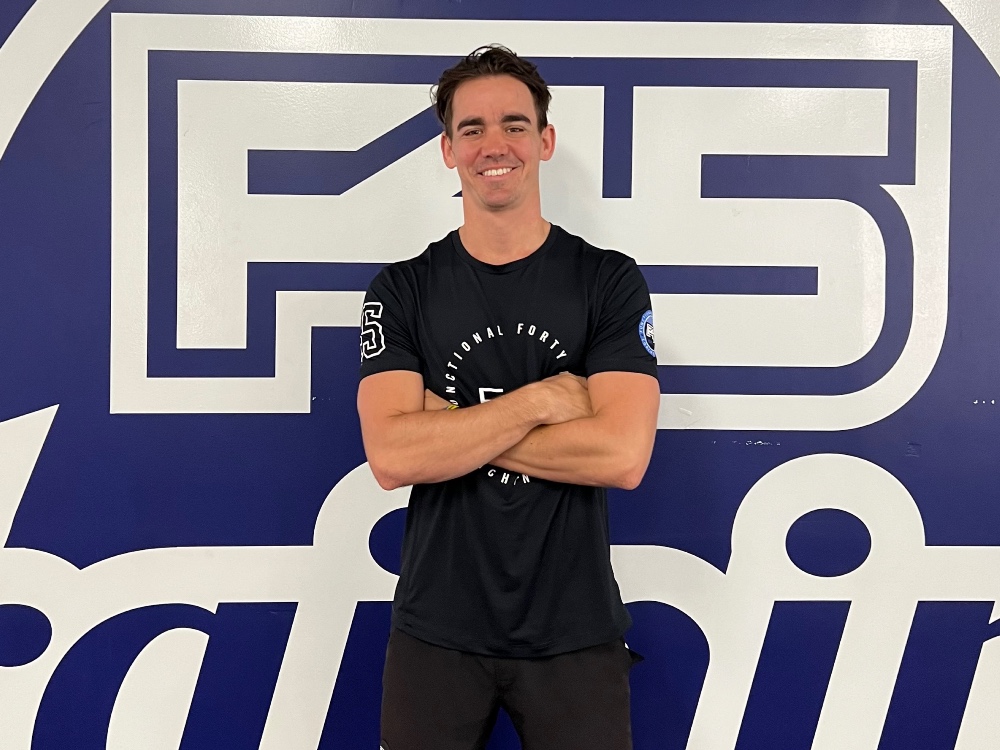 Andrew Billman
Studio Manager
Christina Serrano
Trainer
F45 Lincoln Square South F45 Lincoln Square South
Owner, Studio Manager
READY TO JOIN THE SQUAD?
LET'S GO!