Functional Fitness. Real Results.
F45 Schaumburg
F45 Training Schaumburg offers functional group fitness classes, reimagined. We are more than just a gym. We are the total wellness solution for every body. With 5,000+ dynamic, energy-packed movements and over 80 workouts offered, we help you unlock your inner athlete. We are the workout you always wanted with the team you didn't know you needed. New to F45 Training?
Team Training. Life Changing.
F45 Schaumburg
Mark Wahlberg said it best: It's not about mirrors, mood lights or followers. It's about what you did with your time. It's about how you feel when you are finished and who encouraged you along the way. Ready to join the movement?
Team Training. Life Changing.
F45 Schaumburg
F45 Training is functional group fitness, with the effectiveness and attention of a certified personal trainer. Our workouts are designed for every body. Join us to find out why we are rated #1 Gym by Men's Journal in the US and Canstar Blue in Australia.
Class Schedule
Experience the power of F45 Schaumburg today and start feeling the difference today.
THE RESULTS ARE IN
SUCCESS STORIES
MENTAL & PHYSICAL HEALTH
After 3 years and 500+ classes into F45, my mental and physical health have drastically improved.
STAMINA AND ENDURANCE
My focus is building stamina and endurance to combat multiple sclerosis. I'm 61 and in the best shape of my life.
WEIGHT LOSS
I've lost 187 lbs since my very first workout in 2021. F45 has become the most joyful place in my life.
BODY TRANSFORMATION
Through F45, I have lost 13 lbs of fat, gained 4 lbs of muscle and descreased by body fat by 6%.
CANCER SURVIVAL
Three years ago I got cancer. It was my F45 family and friendships that got me through it. My team is always there for me.
FEEL THE LOVE
WHAT OUR MEMBERS SAY ABOUT US
Absolutely love this place! The atmosphere is very welcoming & the coaches are great. I highly recommend joining F45 if you want to get a killer workout in every day!!
Without a doubt F45 Schaumburg provides the best group workout classes. Between the coaches and members there's always such a great energy that keeps me coming back! People don't take themselves too seriously here. But they also value hard work and quality workouts, creating a great balance. Form is always corrected with respect and explanation. This is a very welcoming/ motivational environment and I'm so glad F45 is a part of my workout routine.
F45 is such a fun and motivating environment to workout! The workouts are very functional and can be modified for all exercise levels! I also love that they change so often so you can never get bored of the same one! Loving it!!
I was initially hesitant to sign up here without knowing proper techniques. The help and exposure I got from F45 Schaumburg trainers was awesome and enjoyed to do this functional workout for my kind of work style. This is NOT regular gym, signup, it's different all together which gives your mind & body energy. I would strongly recommend to try this with trial classes.
Everyone has been so welcoming. I love the energy and vibes of this studio. Coaches are great, music is awesome and you get such a great workout!
Before joining F45 Schaumburg my workouts had decreased to almost nothing. I had no desire to do more than the elliptical a few times a week. I had a back injury years ago and was afraid to do too much. The amazing trainers at F45 Schaumburg helped me learn how to adjust the exercises so I wouldn't hurt my back but still get the work in. In just a few weeks at F45 I could already feel the strength building in my body. Now I'm at the gym five times a week and am loving it! Thank you F45 trainers! 💜💪🏻
Great, high energy, classes, encouraging coaches, easy to use app, great schedule – what more could you ask for? F45 has helped me get re-energized about fitness after 2+ years of figuring out how to stay fit during a pandemic and burning out. Very glad I gave it a shot!
F45 has been such a fun change of pace for me! I leave every workout dripping sweat and feeling accomplished! Such a fun atmosphere
A challenging workout that can be modified for every level of fitness! I am working to gain strength and coordination and the coaches are great at taking time to encourage, motivate, and show the proper technique. I am excited to continue going to classes and seeing the change I know these workouts can give me!
TEAM TRAINING
LIFE CHANGING
TEAM TRAINING
LIFE CHANGING
TEAM TRAINING
LIFE CHANGING
TEAM TRAINING
LIFE CHANGING
TEAM TRAINING
LIFE CHANGING
TEAM TRAINING
LIFE CHANGING
MEET THE TRAINERS
OUR FITNESS TEAM
F45 trainers are in a league of their own, delivering the expert guidance and unconditional support of a one-on-one personal trainer. Get to know the F45 trainers near you before your next F45 class.
Ian Dela Cruz
Head Trainer, Studio Manager
Michael Nishimura
Trainer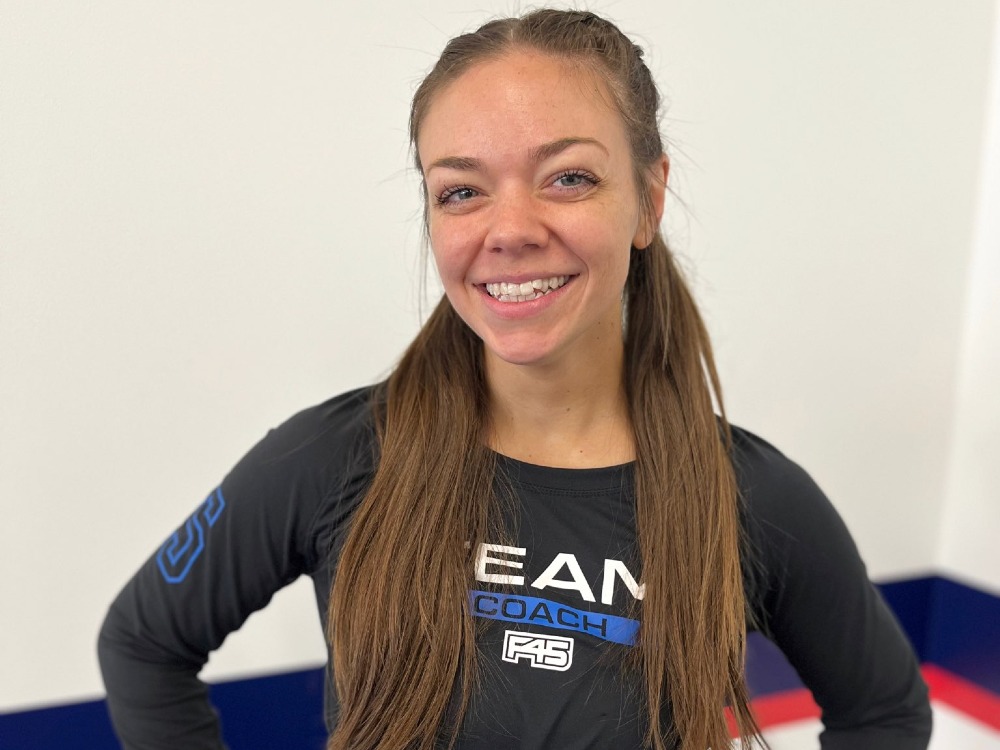 Rachel Bushell
Studio Manager
READY TO JOIN THE SQUAD?
LET'S GO!