Functional Fitness. Real Results.
F45 DUBAI HILLS
F45 TRAINING DUBAI HILLS offers functional group fitness classes, reimagined. We are more than just a gym. We are the total wellness solution for every body. With 5,000+ dynamic, energy-packed movements and over 80 workouts offered, we help you unlock your inner athlete. We are the workout you always wanted with the team you didn't know you needed. New to F45 Training?
Team Training. Life Changing.
F45 DUBAI HILLS
Mark Wahlberg said it best: It's not about mirrors, mood lights or followers. It's about what you did with your time. It's about how you feel when you are finished and who encouraged you along the way. Ready to join the movement?
Team Training. Life Changing.
F45 DUBAI HILLS
F45 Training is functional group fitness, with the effectiveness and attention of a certified personal trainer. Our workouts are designed for every body. Join us to find out why we are rated #1 Gym by Men's Journal in the US and Canstar Blue in Australia.
Class Schedule
Experience the power of F45 DUBAI HILLS today and start feeling the difference today.
THE RESULTS ARE IN
SUCCESS STORIES
Member of The Month
Nina is a great part of the team, she is an energiser bunny for everyone!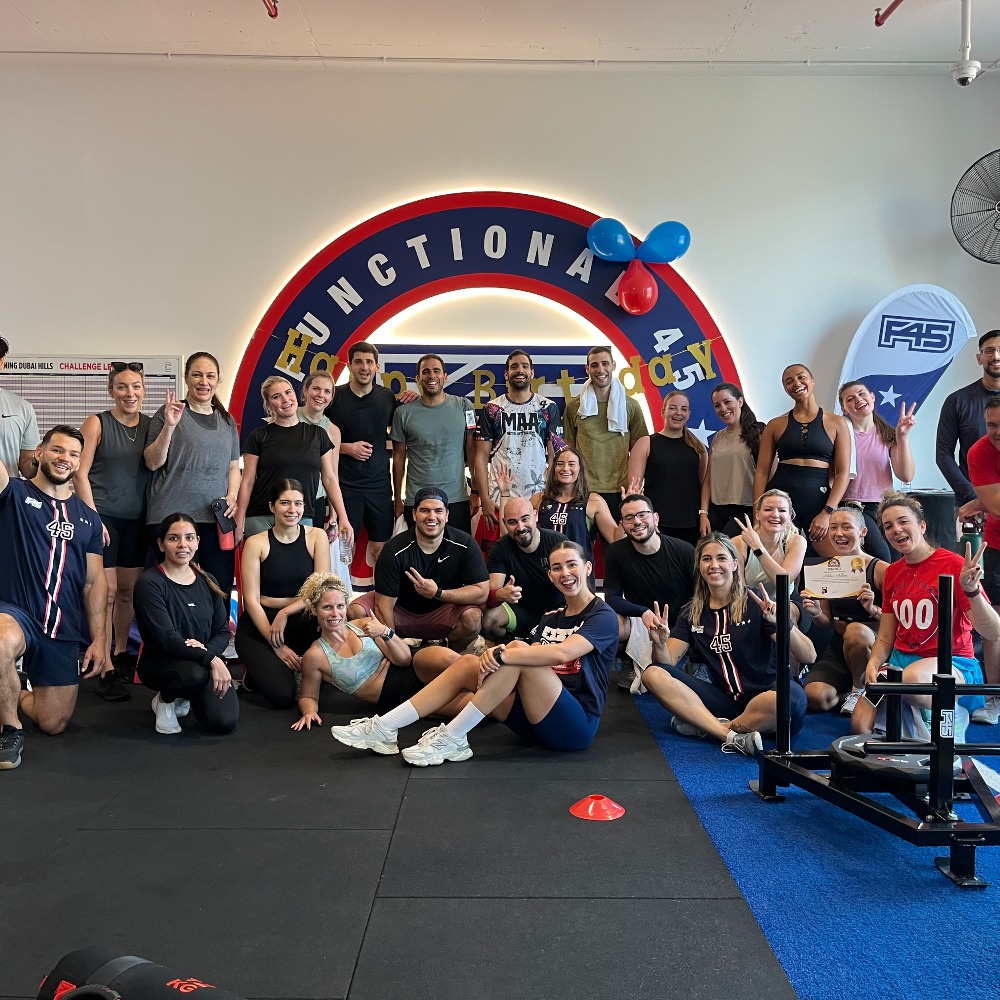 Team Work
One of our core values is to be a team who work together
Member of The Month
Simon always gives 100%, and loves a challenge even when he is not feeling up for it!
Team Spirit
Working as a team and supporting each other is what we do best
Member of The Month
Jonny is super consistent, and always pushing himself plus he is always motivating his team mates!
Group Support
Support and Accountability are one of the biggest levers you need to get RESULTS
FEEL THE LOVE
WHAT OUR MEMBERS SAY ABOUT US
I joined F45 1.5 months ago to join the 45 day challenge and it has been an amazing experience so far. As someone who always struggled to motivate myself to go to the gym for a workout, I can proudly say I have attended classed 5x a week most weeks. This is all due to the amazing atmosphere at F45 Dubai Hills. The coaches are amazing, motivating and so approachable and the workouts are challenging, fun and appropriate for all levels. There is a real sense of community and being part of the challenge was a great way to start training with them. Since joining I have convinced 2 other friends to join me as well and the love it equally as much! Thanks F45 Dubai Hills!!
F45 is my happy place. The trainers are all so encouraging and supportive and make each class great fun to be at. The focus on consistency (rather than just lifting heavy and eating perfectly) is what keeps me coming back week after week. I have never been so addicted to a fitness class. Huge thanks to all the trainers for making it a great community!
Been a member here for over 6 months and can honestly say this has been one of the best fitness experiences I've ever had in over 30 years of living in Dubai. The workouts are fun and not a typical circuit/HIIT workout. Never a boring workout nor repetitive with the flexibility to push yourself or take it a bit easier. The coaches are all amazing, helpful, friendly, funny and knowledgeable. Special shoutout to Inja & Chyme who helped me with my posture and working around my previous injuries. All the coaches give attention and help everyone in the class compared to other places where you are likely to hurt yourself because no one is helping or paying attention to your movements. I've also managed to achieve my fitness goals over these last 6 months and have seen tremendous improvement across strength and stamina. While also still motivated to keep pushing myself with the help of the amazing coaches. So if you want to workout and enjoy it this is the only place for you!
For many years the gym has felt like a chore for me. I would count the days and minutes in every class, however, since joining F45, I am loving training! I love every minute of the classes! each class is different, they are do able, motivating, challenging and all of the coaches make such a big difference! I cannot wait to continue my fitness journey with F45 and I cannot recommend them enough.
F45 Dubai Hills is an amazing fitness studio where you will be able to achieve your goals. The coaches are very supportive, the workouts are great and matches all types of needs and levels of fitness. The atmosphere in general is very positive and the community is great. Great location, clean studio and new equipment too. Highly recommended.
One of the best f45 studios out there – if not the best. If you are looking for a great community, absolute legend coaches, and want to progress and have fun doing it..look no further. Huge shoutout to the studio manager Chyme who pays attention to the smallest detail to ensure your membership is utilized to the maximum, and to the coaches Keri, Chris, Gillian, Daria and Inja who always push and encourage you to bring your A game every-time you show up. It's been 10 months already .. and I'm looking forward to 10 more.
The best gym in Dubai! If you are looking to train hard, build your character and stay motivated in a friendly environment, F45 is a place to be! Highly recommended! You will thank me later 🙂
I've been a member of F45 for about 6 months now and I can honestly say during these last 6 months I've had more energy and felt the best I ever have in my body and fitness ability. This is all down to joining F45 and training in an environment with the friendliest coaches who are so encouraging and selfless in offering so much support and guidance when it comes to fitness, health and nutrition. I really like training in a team atmosphere and it has become a social event for me as well as a way to exercise and get stronger both physically and mentally. I have met some amazing people and the coaches really do go above and beyond to help you reach your goals. F45 dubai hills is the best! Special shoutout to Chyme, Keri, Jules, Gillian, Sav and Dan who have encouraged me to be the best version of myself. Keep doing what you do team!
I joined F45 Dubai Hills to primarily improve my mental health, as well as get back into fitness after some time out. The enthusiasm from all of the coaches and their willingness to help and teach has pushed me to you to get fitter, healthier and stronger (not just physically). The different workouts scheduled for the week means there is always variety and the recently introduced in-studio team challenges has really brought a community spirit to the studio.
TEAM TRAINING
LIFE CHANGING
TEAM TRAINING
LIFE CHANGING
TEAM TRAINING
LIFE CHANGING
TEAM TRAINING
LIFE CHANGING
TEAM TRAINING
LIFE CHANGING
TEAM TRAINING
LIFE CHANGING
MEET THE TRAINERS
OUR FITNESS TEAM
F45 trainers are in a league of their own, delivering the expert guidance and unconditional support of a one-on-one personal trainer. Get to know the F45 trainers near you before your next F45 class.
Christophe Danguy
Trainer
Chyme Henry
Trainer, Studio Manager
READY TO JOIN THE SQUAD?
LET'S GO!