Functional Fitness. Real Results.
F45 JUMEIRAH
F45 TRAINING JUMEIRAH offers functional group fitness classes, reimagined. We are more than just a gym. We are the total wellness solution for every body. With 5,000+ dynamic, energy-packed movements and over 80 workouts offered, we help you unlock your inner athlete. We are the workout you always wanted with the team you didn't know you needed. New to F45 Training?
Team Training. Life Changing.
F45 JUMEIRAH
Mark Wahlberg said it best: It's not about mirrors, mood lights or followers. It's about what you did with your time. It's about how you feel when you are finished and who encouraged you along the way. Ready to join the movement?
Team Training. Life Changing.
F45 JUMEIRAH
F45 Training is functional group fitness, with the effectiveness and attention of a certified personal trainer. Our workouts are designed for every body. Join us to find out why we are rated #1 Gym by Men's Journal in the US and Canstar Blue in Australia.
Class Schedule
Experience the power of F45 JUMEIRAH today and start feeling the difference today.
THE RESULTS ARE IN
SUCCESS STORIES
Challenge Winner
We are very proud of Chrislyn for how strong she's become, how hard she trains and for her team spirit !
Team Work
Supporting others is what we do best at F45 Jumeirah
14lbs down in 3 months
Big congrats to Scott for being focused with his training and nutrition and getting some well deserved RESULTS
Team Spirit
Best part about F45 is the team spirit amongst members – no one gets left behind
Member of the Month
Big shout out to Adelfa for winning our Member of the Month. She works hard and is a big team player !
Group Support
Supporting others is what we do best
FEEL THE LOVE
WHAT OUR MEMBERS SAY ABOUT US
Amazing all around! Everyday is different and the atmosphere is so encouraging. The coaches are very supportive and make sure you're getting the most out of the classes. I joined 3 months ago and I am loving all of the new things I learn each time I come. It's a very positive environment, amazing facility, and a beyond friendly community. I have more strength now than I've had in a while and feel better than I've ever felt. Will be back and back again!
I was really nervous about my journey back to fitness but the coaches at F45 Jumeirah have been so welcoming and encouraging. I would recommend anyone at any level of fitness to give it a go. The gym is spotless, with great equipment and the playlists are 👌
From the moment I entered F45 Jumeirah, I was impressed. It had an amazing vibe of motivation and energy. All the trainers are very knowledgeable, supportive and approachable. Highly recommend F45 to anyone who is looking for a fitness routine and a fantastic experience. Cheers!!!
F45 is truly one of the best workouts out there! Super effective and you are done in no time. Apart from that the team of AMAZING couches like Sean, Runet, Noor, Dan, Sav, Nicole, and Edvige makes it even better, they are not only some of the BEST couches who guide you through the workout but absolutely amazing human beings I have come across, they make the whole experience worth while! The studio itself is extremely well equipped, tidy and there is plenty of parking outside. I would recommend F45 Jumeirah branch to all my friends!!!! It's truly an amazing experience.
F45 Jumeirah is an outstanding fitness center with state-of-the-art equipment and knowledgeable trainers. The classes are challenging and engaging, and the community atmosphere makes every workout enjoyable. Five stars all around! The perfect 45 mins to my day!
Love this place! F45 has the Best Energy, Every Trainer closely watches and corrects everyone's form, and the support on our fitness journey is unconventional. The workouts are tough but rewarding! Hands-down my favorite workouts. 💪🏻💪🏻
I had been waiting for F45 for a long time and it was worth it! starting with the location is excellent, enough parking space completely free, the facilities are organized and clean and finally all the coaches are super professional and motivating!
I am absolutely happy that I met you guys! My friend recommended me F45 and my only regret is that I haven't started with you earlier! Very friendly, supportive and helpful coaches, just thank you for everything! See you tomorrow 😍😂
Love the team spirit, cheerful upbeat and encouraging coaches and music. 45 minutes works for me! Addicted.
TEAM TRAINING
LIFE CHANGING
TEAM TRAINING
LIFE CHANGING
TEAM TRAINING
LIFE CHANGING
TEAM TRAINING
LIFE CHANGING
TEAM TRAINING
LIFE CHANGING
TEAM TRAINING
LIFE CHANGING
MEET THE TRAINERS
OUR FITNESS TEAM
F45 trainers are in a league of their own, delivering the expert guidance and unconditional support of a one-on-one personal trainer. Get to know the F45 trainers near you before your next F45 class.
Bailey Hodgson
Studio Manager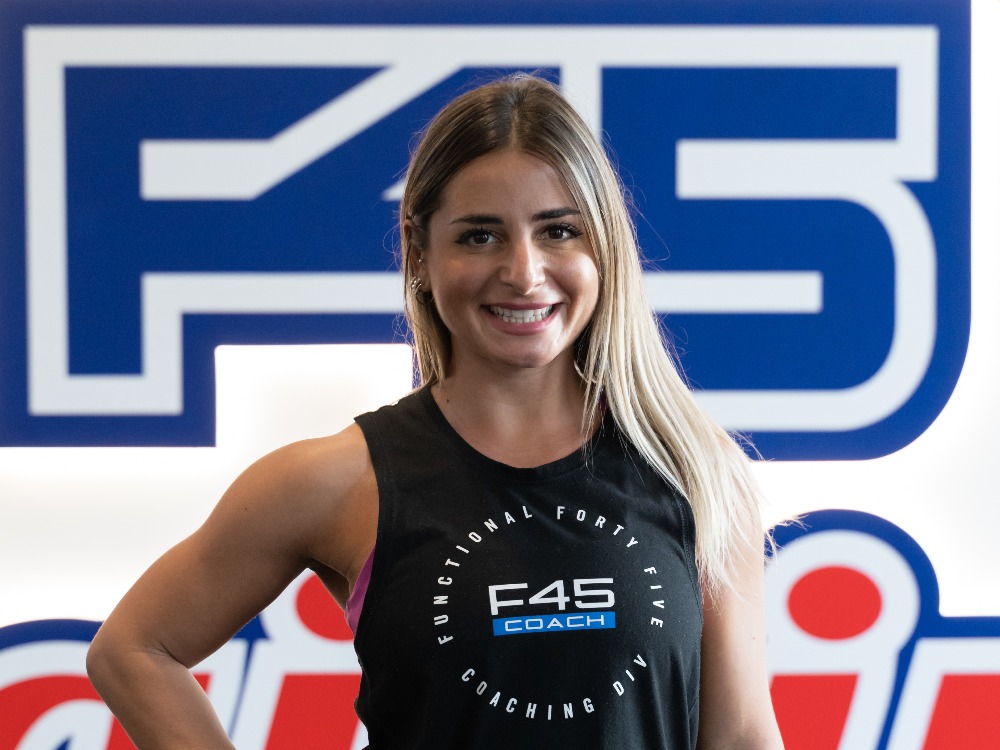 Runet Van Heerden
Trainer
READY TO JOIN THE SQUAD?
LET'S GO!