Functional Fitness. Real Results.
F45 Grangegorman
F45 Training Grangegorman offers functional group fitness classes, reimagined. We are more than just a gym. We are the total wellness solution for every body. With 5,000+ dynamic, energy-packed movements and over 80 workouts offered, we help you unlock your inner athlete. We are the workout you always wanted with the team you didn't know you needed. New to F45 Training?
Team Training. Life Changing.
F45 Grangegorman
Mark Wahlberg said it best: It's not about mirrors, mood lights or followers. It's about what you did with your time. It's about how you feel when you are finished and who encouraged you along the way. Ready to join the movement?
Team Training. Life Changing.
F45 Grangegorman
F45 Training is functional group fitness, with the effectiveness and attention of a certified personal trainer. Our workouts are designed for every body. Join us to find out why we are rated #1 Gym by Men's Journal in the US and Canstar Blue in Australia.
STUDIO CONTACT INFO
Unit 3, Ardcairn House, 8 Grangegorman Lower, Arran Quay, Smithfield, Dublin 7
Class Schedule
Experience the power of F45 Grangegorman today and start feeling the difference today.
THE RESULTS ARE IN
SUCCESS STORIES
JEAN: I'm down a size in jeans and lost 5kg in body fat
Being a former competitive athlete Jean has high expectations of herself, which fires her up to push through every workout. "I was looking for a new gym as had lost focus, and was getting frustrated as was finding it hard to lose the weight I gained from early menopause & stopping competitive sport. then I came across F45, & genuinely have not looked back."
DARRAN: Attending the classes was the easy part
"I really enjoyed this challenge. After the summer holidays I felt like I needed structure to help me focus on my fitness goals. I surprised myself with my commitment to this challenge, but the results are much more than I expected (Darran lost 5kg in body fat). I'm delighted I gave it all I could. Thanks to the F45 team for their motivation and guidance!"
ENDA: There's a real sense of community at F45 Grangegorman
Enda had never been a member of any gym before and chose F45 to help him achieve his goal to change his lifestyle and improve his health. 5 months of consistent training and eating healthily he lost a WHOPPING 16.7kg in weight and 14.9% bodyfat while also putting on lean muscle. He completely transformed his lifestyle. "The trainers are absolutely fab; always so supportive, approachable, kind and genuinely invested in pushing everyone to reach their full potential. There's also a real sense of community at F45 Grangegorman. Every session is a social, fun and enjoyable experience and this special aspect is why it's so easy for me to keep coming back and to stay committed."
SCHAY: I feel very grateful and blessed for having you guys in my daily routine
"When I realised that I haven't had time for myself, I decided to focus on my health during my lunch break. Day by day, I was coming to the gym trying to push myself, and you guys are a big reason why I come back for more. After couple of months, I'm here all smiley, happy, fit, and sometimes pushing my workout partner hehe! So, a big shout out to each member of this amazing team!! Thank you once again for everything that you do."
FEEL THE LOVE
WHAT OUR MEMBERS SAY ABOUT US
This fitness place, F45, is really great!! You do not have to think at all.. just come and you will have the best training of your life.. .. and the trainers? Well, they are the best of course. They will give you tips and most of all motivate you every second to get also the best of your performance! Highly recommended
It's infuriatingly addictive! I always leave the studio with happy and proud vibes. I'm stronger, I feel better everytime I do a class and it's so great I keep coming back for more. The Grangegorman team are really amazing also. Encouraging, engaging, motivating and sometimes they even join in with you just to show you are never alone. Highly highly highly recommend it.
Such a brilliant workout experience, loads of variety within the workouts and such a welcoming environment. The coaches are all really supportive. Guaranteed to leave feeling better than you arrived 🙂
8 months in F45 Grangegorman. Throughout the 8 months I have accomplished lots of my goals and it wouldn't be easy without F45 and its coaches. Such a friendly atmosphere. The workouts are so inspiring with different techniques working different parts of the body its never the same. But one thing I'm sure of is that together with the friendly atmosphere and the coaches, its the music that keep us going all the way to the end. I love this place to bits. I highly recommend F45 Grangegorman!
I signed up for the 4 week beginners package and now I'm hooked! Love the style of the classes and the instructors are always helpful and supportive.
F45 Grangegorman is not like any other gym I have been a member of. The environment is so supportive, encouraging and great fun. The trainers offer advice and gentle encouragement to help you meet your fitness goals. I really enjoy going every morning, have made friends easily which has helped keep me motivated and am seeing visible results in my body and mental wellbeing. Keep up the great work guys!
TEAM TRAINING
LIFE CHANGING
TEAM TRAINING
LIFE CHANGING
TEAM TRAINING
LIFE CHANGING
TEAM TRAINING
LIFE CHANGING
TEAM TRAINING
LIFE CHANGING
TEAM TRAINING
LIFE CHANGING
MEET THE TRAINERS
OUR FITNESS TEAM
F45 trainers are in a league of their own, delivering the expert guidance and unconditional support of a one-on-one personal trainer. Get to know the F45 trainers near you before your next F45 class.
Carl Walshe
Studio Manager
Gabriel Tavares do Nascimento
Trainer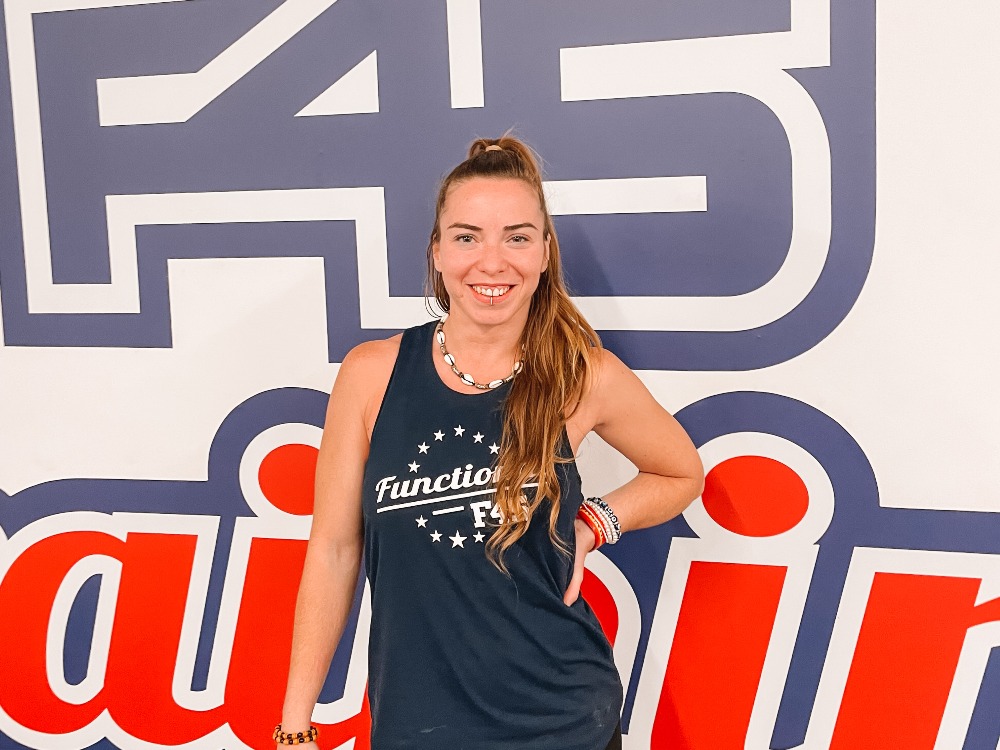 Ionut (John) Napar
Head Trainer
Lucy Kirby
Trainer, Head Trainer, Membership Advisor, Studio Manager
READY TO JOIN THE SQUAD?
LET'S GO!