Functional Fitness. Real Results.
F45 Amherst
F45 Training Amherst offers functional group fitness classes, reimagined. We are more than just a gym. We are the total wellness solution for every body. With 5,000+ dynamic, energy-packed movements and over 80 workouts offered, we help you unlock your inner athlete. We are the workout you always wanted with the team you didn't know you needed. New to F45 Training?
Team Training. Life Changing.
F45 Amherst
Mark Wahlberg said it best: It's not about mirrors, mood lights or followers. It's about what you did with your time. It's about how you feel when you are finished and who encouraged you along the way. Ready to join the movement?
Team Training. Life Changing.
F45 Amherst
F45 Training is functional group fitness, with the effectiveness and attention of a certified personal trainer. Our workouts are designed for every body. Join us to find out why we are rated #1 Gym by Men's Journal in the US and Canstar Blue in Australia.
Class Schedule
Experience the power of F45 Amherst today and start feeling the difference today.
THE RESULTS ARE IN
SUCCESS STORIES
MENTAL & PHYSICAL HEALTH
After 3 years and 500+ classes into F45, my mental and physical health have drastically improved.
STAMINA AND ENDURANCE
My focus is building stamina and endurance to combat multiple sclerosis. I'm 61 and in the best shape of my life.
WEIGHT LOSS
I've lost 187 lbs since my very first workout in 2021. F45 has become the most joyful place in my life.
BODY TRANSFORMATION
Through F45, I have lost 13 lbs of fat, gained 4 lbs of muscle and descreased by body fat by 6%.
CANCER SURVIVAL
Three years ago I got cancer. It was my F45 family and friendships that got me through it. My team is always there for me.
FEEL THE LOVE
WHAT OUR MEMBERS SAY ABOUT US
I am loving my F45 experience thus far. As a momma of 2 under 2, I haven't been to the gym in quite some time. Even though I am sleep deprived, I look forward to getting up in the morning and heading to the gym. The environment, people, and music are all great! Looking forward to seeing where my F45 journey brings me mentally and physically! 💪🏼
F45 Amherst has the friendliest instructors. They're always motivating you to keep working hard and always make sure you're doing the exercises correctly and safely. The gym is very clean and easily accessible. The workouts are very challenging and unique. If you're looking to change up your workout routine and get into great shape this is the best place to be!
My favorite place! F45 Amherst is not your average gym! The trainers & family feel is above the rest! I love the team training and the constant good vibes! If you want a good workout with amazing staff & morale- F45 Amherst will be your jam!
F45 Amherst is the best training I have ever been a part of! The workouts are unmatched, due to their versatility and efficiency. The trainers are always there to lend a helping hand but also to push you through the class. Thank you F45 Amherst team!
Such a great workout and atmosphere! The coaches are great and full of energy. The workouts are easy to follow and I always leave with a good sweat. My girlfriend introduced me to f45 and we love going together. Highly recommend giving it a try!
I can't even begin to say how much I love this place and the workouts!! They are fun, quick, and challenging. You're able to modify so many of the exercises to fit your fitness needs and the coaches are all there wanting to help you learn and succeed. This is basically where small classes meet personal training and it couldn't be a more perfect match!! I can't imagine doing anything different and I'm so looking forward to continuing my journey here!!
Awesome atmosphere! The concept of working out in 45 minutes is awesome, but really this community is just fantastic. Unpretentious and welcoming. Love it!!
This is by far the greatest gym and group of people I have ever experienced hands down! If you are looking for positive motivation, family like atmosphere and highly deserved results… this is the place!!! Since my first day, all of the trainers have made me feel special and important here. They actually make working out FUN and enjoyable. I wish I could give them higher than 5 stars because it doesn't do them justice!! I recommend to anyone and everyone looking for a healthier lifestyle or a change in scenery!
I can't say enough good things about F45 Amherst!!! The best trainers, such a good workout and the most fun energy at every class. I'm so happy I started going and now have an unlimited membership! LOVE this place!!!
Great workout, amazing facility. I love F45 because I'm busy. You get there right on time and your walking out in 45 minutes and then onto your day. Workouts are fun. You could be any age, body type and do F45. I also travel, so I drop into other F45s around rhe country. Give it a try, you won't regret it
I've tried some different HIIT before – the staff here gives just the right amount of push to get that little extra out of you. Outstanding for people of all fitness levels!
F45 is my favorite gym I have ever had a membership to! All your workouts are planned for you and each class has numerous trainers to help with your form! When I was recovering from an injury the trainers were very helpful in modifying each movement for me to ensure that I didn't re-injure myself! The best part about F45 is all you have to do is show up! I would highly recommend F45 to anyone!
TEAM TRAINING
LIFE CHANGING
TEAM TRAINING
LIFE CHANGING
TEAM TRAINING
LIFE CHANGING
TEAM TRAINING
LIFE CHANGING
TEAM TRAINING
LIFE CHANGING
TEAM TRAINING
LIFE CHANGING
MEET THE TRAINERS
OUR FITNESS TEAM
F45 trainers are in a league of their own, delivering the expert guidance and unconditional support of a one-on-one personal trainer. Get to know the F45 trainers near you before your next F45 class.
Catrina Giambelluca
Trainer
Jennifer O'Connor
Trainer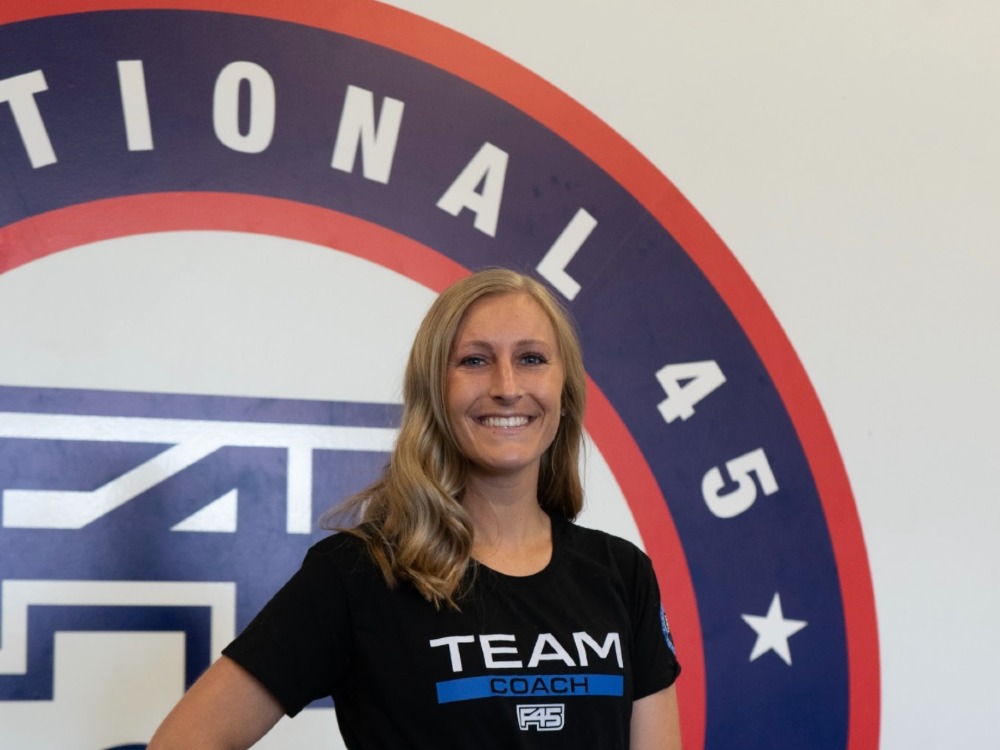 READY TO JOIN THE SQUAD?
LET'S GO!