Functional Fitness. Real Results.
F45 NARELLAN
F45 TRAINING NARELLAN offers functional group fitness classes, reimagined. We are more than just a gym. We are the total wellness solution for every body. With 5,000+ dynamic, energy-packed movements and over 80 workouts offered, we help you unlock your inner athlete. We are the workout you always wanted with the team you didn't know you needed. New to F45 Training?
Team Training. Life Changing.
F45 NARELLAN
Mark Wahlberg said it best: It's not about mirrors, mood lights or followers. It's about what you did with your time. It's about how you feel when you are finished and who encouraged you along the way. Ready to join the movement?
Team Training. Life Changing.
F45 NARELLAN
F45 Training is functional group fitness, with the effectiveness and attention of a certified personal trainer. Our workouts are designed for every body. Join us to find out why we are rated #1 Gym by Men's Journal in the US and Canstar Blue in Australia.
Class Schedule
Experience the power of F45 NARELLAN today and start feeling the difference today.
THE RESULTS ARE IN
SUCCESS STORIES
Perseverance
Harry has conquered 1500 sessions with us! His journey is an inspiration of unparalleled dedication & unwavering spirit.
F45 Dynamo Mountain Maven! 💪
Aconcagua, Kilimanjaro, Mont Blanc—Garry's conquered them all! Now, Everest Base Camp beckons as his next conquest.
UNBEATABLE & INCREDIBLE CREW
SHEDDING 20KG IN JUST A YEAR, EVEN WITH BREAKS IN BETWEEN. HEARTFELT GRATITUDE TO THE ENTIRE TEAM
FEEL THE LOVE
WHAT OUR MEMBERS SAY ABOUT US
The absolute best studio with the best trainers. After moving away from the area and training at many other studios/gym's in many different areas, it was great to come back 4 years later and still see Tracy and Craig's smiling friendly faces which is amazing considering how frequent trainers move on these days. But not only that it was awesome to see that they are still very committed to ensure you are training as hard as you can with the correct technique. Thank you so much guys and it's great to be part of the family again.
Love F45 Narellan! The workouts are varied and can easily be accommodated to each person. The trainers at Narellan welcomed me with open arms, they are are all awesome, friendly, inspiring and encouraging every single day! They keep me accountable and motivated. Great group of members to train alongside too!
I love the F45 workout. It is quick and effective with a great variety of different workouts and with that comes amazing results. The trainers are great and give you that much needed push. Hands down the best gym and I would highly recommend it to anyone wanting to give it a try you won't be disappointed
F45 Narellan has given me a place to work out and not have to think or be judged. I love that is it for all fitness levels and only 45mins a day great for me with 2 young kids and a shift worker. The best part would have to be the trainers who have now become great friends of mine.
I started at F45 Narellan in late January as a complete newbie, someone with no previous gym experience. However, I had one main goal in mind, and that was to become fit enough to enter my dream career. For the past 8 months, F45 Narellan has kept me consistent, accountable and highly motivated each week and during every class, not just in my workouts alone, but also with my nutrition. The atmosphere is so welcoming and fun, and full of encouragement. I cannot emphasise enough how profound the impact F45 Narellan, has made on my life. I would strongly recommend to anyone, regardless of your level of fitness. Just Go For It! Eight months later, and I have achieved my goal and get to enter my dream career, confident with my fitness, and relieved that I made the best decision. I have enjoyed every minute. Kate, Craig, Gabbi, & Tracey the most dedicated team of trainers. You've each changed my life for the better, thank you for everything
Not just a gym but a community! If you're looking to be motivated and challenged look no further. Narellan f45 is all about working hard, getting results and having fun while you do it! So thankful for the amazing team who push each other day in and day out and the fabulous trainers who get the best out of everyone in the room!
Although it's only been a short time, thank you so much for having me, supporting me, encouraging me, coaching and teaching me … and making me laugh & smile each and every session! Craig & Tracey; you're a dynamite duo of genuine care and expert knowledge and this makes F45 Narellan so special!
TEAM TRAINING
LIFE CHANGING
TEAM TRAINING
LIFE CHANGING
TEAM TRAINING
LIFE CHANGING
TEAM TRAINING
LIFE CHANGING
TEAM TRAINING
LIFE CHANGING
TEAM TRAINING
LIFE CHANGING
MEET THE TRAINERS
OUR FITNESS TEAM
F45 trainers are in a league of their own, delivering the expert guidance and unconditional support of a one-on-one personal trainer. Get to know the F45 trainers near you before your next F45 class.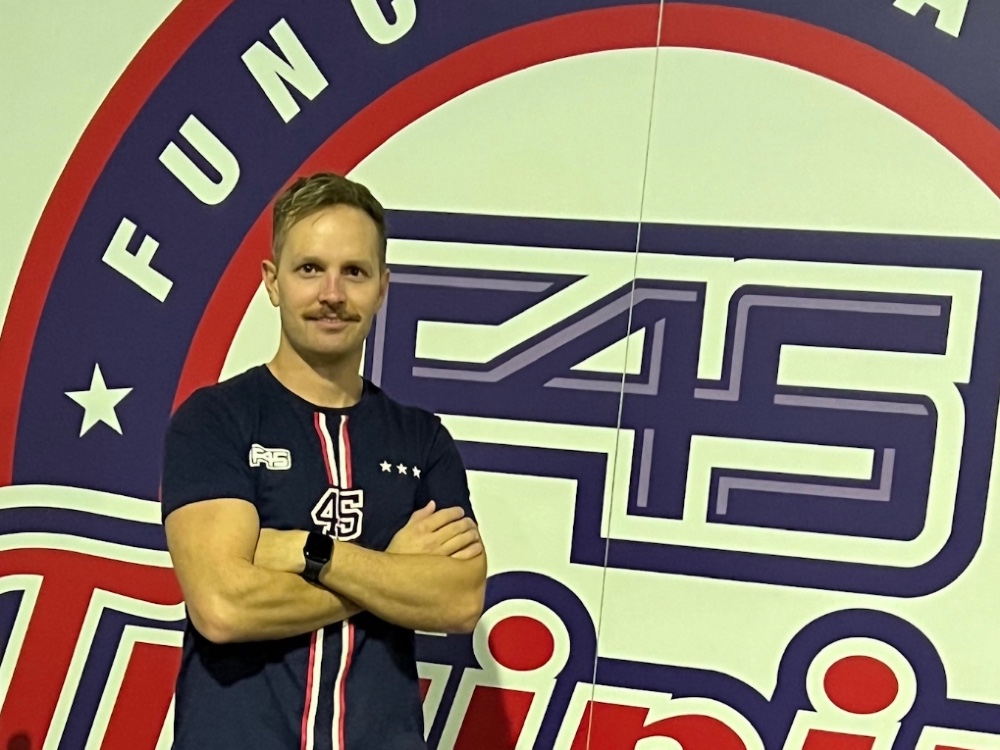 Craig Farrell
Head Trainer
Kate Meredith-cox
Trainer
Tracey Wilson
Studio Manager
READY TO JOIN THE SQUAD?
LET'S GO!