Functional Fitness. Real Results.
F45 NEW LYNN
F45 TRAINING NEW LYNN offers functional group fitness classes, reimagined. We are more than just a gym. We are the total wellness solution for every body. With 5,000+ dynamic, energy-packed movements and over 80 workouts offered, we help you unlock your inner athlete. We are the workout you always wanted with the team you didn't know you needed. New to F45 Training?
Team Training. Life Changing.
F45 NEW LYNN
Mark Wahlberg said it best: It's not about mirrors, mood lights or followers. It's about what you did with your time. It's about how you feel when you are finished and who encouraged you along the way. Ready to join the movement?
Team Training. Life Changing.
F45 NEW LYNN
F45 Training is functional group fitness, with the effectiveness and attention of a certified personal trainer. Our workouts are designed for every body. Join us to find out why we are rated #1 Gym by Men's Journal in the US and Canstar Blue in Australia.
Class Schedule
Experience the power of F45 NEW LYNN today and start feeling the difference today.
THE RESULTS ARE IN
SUCCESS STORIES
F45 Changed My Weekend Game
"F45 was the only gym that saved my life. I have stopped seeing the doctor frequently since I joined F45"
Double Transformation…
Although her transformation looks amazing to the eye, it is her mental transformation she is most proud of.
In it for the long run!
Greg has smashed out 1636 classes and has never found himself bored – he is in the best shape of his life!
FEEL THE LOVE
WHAT OUR MEMBERS SAY ABOUT US
New Lynn f45 is another level, honestly I have not witnessed anything like this all my life. Their personalised support and care is beyond what you could imagine. Be in class or outside, they personally communicate with us to make sure we are doing fine and if they can provide any support (…) For an introvert like me who struggles to communicate if there is any concern, they made me feel so comfortable and listen to me and supported me in every way….
Absolutely love it! The F45NL environment has changed my perspective and mindset on working out. The coaches have positively impacted my lifestyle. Before F45 I was hardly active so I decided to join. The first 2 weeks were challenging but once I got to know the coaches and the environment, it has made it so much easier. The never ending encouragement is what makes me WANT TO be there…
Such a great gym. Amazing community. Really supportive and non-competitive.
Best gym in the world. Fact.
One of the best gyms ever. I love how all of the coaches are warm and welcoming and every time I walk in the door it's like being at an old friends house. The workouts are also amazing and I'm getting stronger and fitter each time I go. Best decision I've ever made to join f45 New Lynn.
Great atmosphere, friendly and knowledgable staff always willing to give you an extra push. Highly recommend.
TEAM TRAINING
LIFE CHANGING
TEAM TRAINING
LIFE CHANGING
TEAM TRAINING
LIFE CHANGING
TEAM TRAINING
LIFE CHANGING
TEAM TRAINING
LIFE CHANGING
TEAM TRAINING
LIFE CHANGING
MEET THE TRAINERS
OUR FITNESS TEAM
F45 trainers are in a league of their own, delivering the expert guidance and unconditional support of a one-on-one personal trainer. Get to know the F45 trainers near you before your next F45 class.
Anna Davis
Studio Manager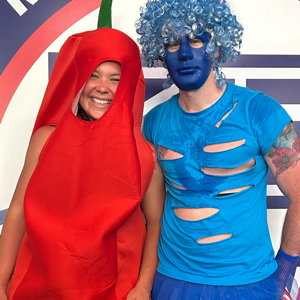 Michelle Hiebendaal
Trainer, Owner
READY TO JOIN THE SQUAD?
LET'S GO!