Functional Fitness. Real Results.
F45 MANSFIELD, TX
F45 TRAINING MANSFIELD, TX offers functional group fitness classes, reimagined. We are more than just a gym. We are the total wellness solution for every body. With 5,000+ dynamic, energy-packed movements and over 80 workouts offered, we help you unlock your inner athlete. We are the workout you always wanted with the team you didn't know you needed. New to F45 Training?
Team Training. Life Changing.
F45 MANSFIELD, TX
Mark Wahlberg said it best: It's not about mirrors, mood lights or followers. It's about what you did with your time. It's about how you feel when you are finished and who encouraged you along the way. Ready to join the movement?
Team Training. Life Changing.
F45 MANSFIELD, TX
F45 Training is functional group fitness, with the effectiveness and attention of a certified personal trainer. Our workouts are designed for every body. Join us to find out why we are rated #1 Gym by Men's Journal in the US and Canstar Blue in Australia.
Class Schedule
Experience the power of F45 MANSFIELD, TX today and start feeling the difference today.
THE RESULTS ARE IN
SUCCESS STORIES
MENTAL & PHYSICAL HEALTH
After 3 years and 500+ classes into F45, my mental and physical health have drastically improved.
STAMINA AND ENDURANCE
My focus is building stamina and endurance to combat multiple sclerosis. I'm 61 and in the best shape of my life.
WEIGHT LOSS
I've lost 187 lbs since my very first workout in 2021. F45 has become the most joyful place in my life.
BODY TRANSFORMATION
Through F45, I have lost 13 lbs of fat, gained 4 lbs of muscle and descreased my body fat by 6%.
CANCER SURVIVAL
Three years ago I got cancer. It was my F45 family and friendships that got me through it. My team is always there for me.
FEEL THE LOVE
WHAT OUR MEMBERS SAY ABOUT US
Can't say enough great things about this gym! Workouts are the best and coaches are amazing! Most effective full body workouts I've done since my years as a college athlete! Another great bonus is that I get to workout with my daughters and DJ GRob mixing great tunes on Saturdays!
Joining this community was one of the best decisions I've ever made! The coaches are so extremely supportive and knowledgeable. And they are super accommodating to whatever level it is that you're starting at. I actually enjoy working out again thanks to F45!!
I've been a member since they opened in March and it was one of the best decisions I've made! All the coaches are friendly and encouraging. The classes pass by so quickly, but in the end, you know you worked your butt off! I'm always walking out tired and sweaty, but with a smile on my face.
An intense workout for all levels of fitness. I'm a beginner and did exercises at my own pace. The team was very supportive and encouraging to push through. Update: I've been going for a few months now and have seen great results. I have built up to 3/4 classes per week without issue and my overall health has greatly improved (Confirmed by my doctor)
F45 is my favorite place to workout. Their class style continues to challenge me, whether it's a cardio or weight training-focused day. Each class is 45 minutes of hard work, effort and intensity and the awesome coaches motivate you to push forward, not give up and challenge yourself. I love how the community is so friendly and encouraging too.
I've been going to this F45 location for about 2 weeks and I love it! The coaches are helpful and I enjoy the group workouts. The environment is clean, the atmosphere is fun, and my friends are already seeing results!
TEAM TRAINING
LIFE CHANGING
TEAM TRAINING
LIFE CHANGING
TEAM TRAINING
LIFE CHANGING
TEAM TRAINING
LIFE CHANGING
TEAM TRAINING
LIFE CHANGING
TEAM TRAINING
LIFE CHANGING
MEET THE TRAINERS
OUR FITNESS TEAM
F45 trainers are in a league of their own, delivering the expert guidance and unconditional support of a one-on-one personal trainer. Get to know the F45 trainers near you before your next F45 class.
Coach Shayla
Trainer, Owner
Eddie Stewart
Trainer, Owner
Elly Rexinger
Head Trainer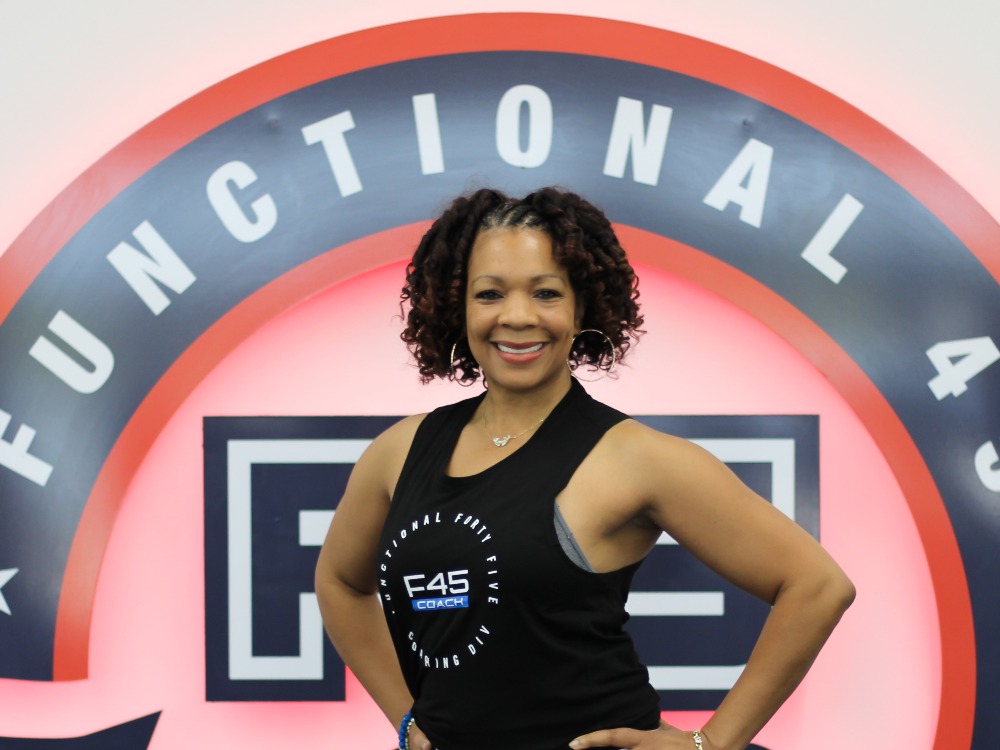 Stephanie Sanders
Trainer
READY TO JOIN THE SQUAD?
LET'S GO!