Functional Fitness. Real Results.
F45 MEDFORD SOUTH
F45 TRAINING MEDFORD SOUTH offers functional group fitness classes, reimagined. We are more than just a gym. We are the total wellness solution for every body. With 5,000+ dynamic, energy-packed movements and over 80 workouts offered, we help you unlock your inner athlete. We are the workout you always wanted with the team you didn't know you needed. New to F45 Training?
Team Training. Life Changing.
F45 MEDFORD SOUTH
Mark Wahlberg said it best: It's not about mirrors, mood lights or followers. It's about what you did with your time. It's about how you feel when you are finished and who encouraged you along the way. Ready to join the movement?
Team Training. Life Changing.
F45 MEDFORD SOUTH
F45 Training is functional group fitness, with the effectiveness and attention of a certified personal trainer. Our workouts are designed for every body. Join us to find out why we are rated #1 Gym by Men's Journal in the US and Canstar Blue in Australia.
Class Schedule
Experience the power of F45 MEDFORD SOUTH today and start feeling the difference today.
THE RESULTS ARE IN
SUCCESS STORIES
Consistency with F45
"I am most proud that at F45 I am the most consistent I have ever been in my entire life in working to improving my health. I'm so much stronger than I was when I started. F45 really is my 'happy' place."
The Solution For Busy Mom's
Keri's recent InBody scan that showed an increase of muscle mass by 5lbs AND a loss of 5% body fat 🤯 Her motivation comes from: -Wanting to feel good in my own skin 🙂 -Wanting to be healthier in my 40's than I've ever been before and to set an example for my kids.
Building Muscle
Matt's scan showed 8 lbs in muscle gain since he started F45! What motivates him? "Freedom to live life because I choose to change my story… from negative thinking to positive thinking. Also, addiction had wrecked my body. After a few months at F45, I am pain free and have FUNCTIONAL mobility again!"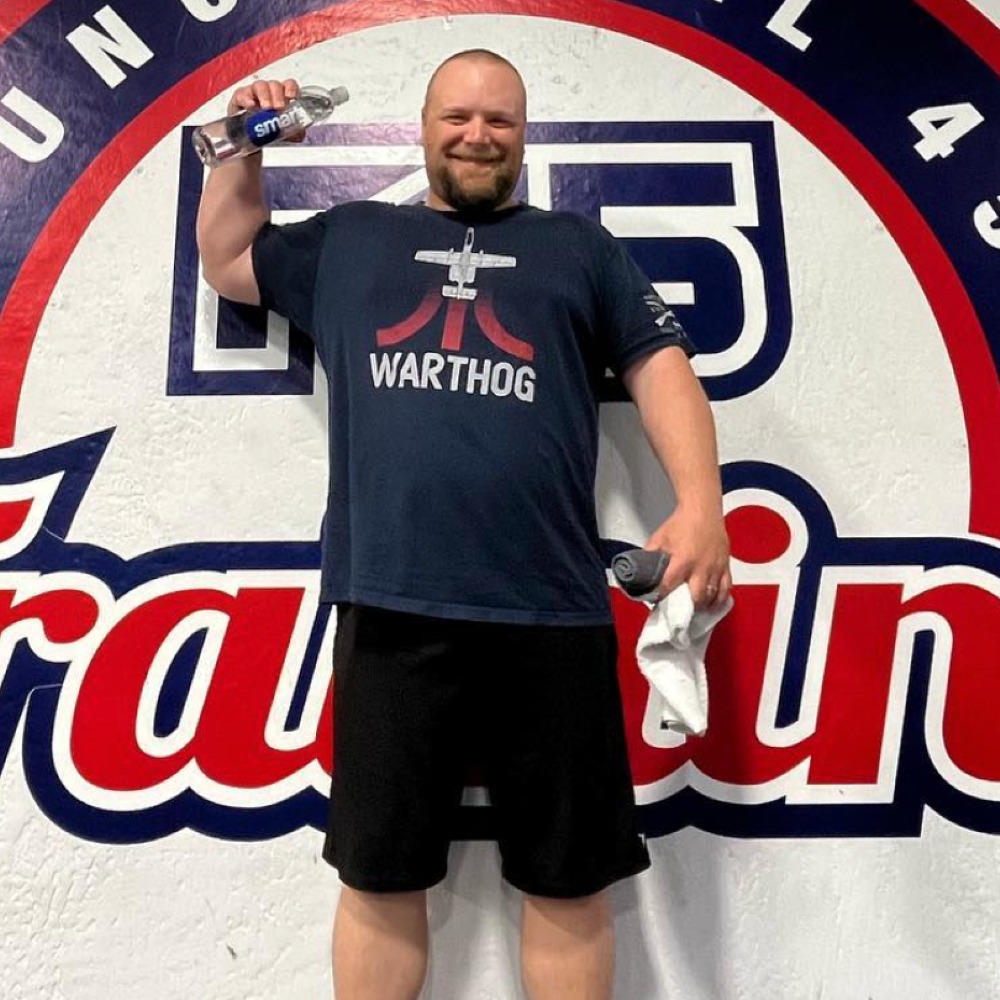 Results in Just 30 Days
John did an InBody scan that showed a loss of 6lbs, and -1% body fat- all in just 30 days! John said: "F45 has given me more energy and drive to accomplish my goals. The weight and inches lost around my waist has given me pride back in myself. It is drive I haven't had since the military."
Holistic Health Improvement
Ashley has lost about 30lbs since joining F45. 🙌 She said: "F45 has motivated me to get my fitness, nutrition, sleep, and overall health in sync. The 5AM class starts my day right and gives me the boost I need to teach all day and keep up with my 2 boys!"
FEEL THE LOVE
WHAT OUR MEMBERS SAY ABOUT US
F45 Medford location is awesome! Trainers are welcoming, friendly and most of all incredibly encouraging! They want to see you do well and succeed. They give you that extra push you need when you need it the most! Well working equipment. Facility has clean bathrooms with showers and all the supplies you need for those that need to run off to work after that early morning workout. Workouts are well balanced and well rounded for all fitness levels from cardio to strength training. Trainers are always welling to give a modification if needed based on your skill level or injury! Good class schedules throughout the day to meet your needs! If you need a great gym F45 is the place for you!!!
OM to the G… do it! I asked a friend to do the first week with me to help me change my mindset (they're a manager at a gym and helped me with form/fresh perspective) but if you don't have a friend to ask, do it anyways because you'll quickly see how awesome the TEAM (coaches and members… gosh, it's an awesome atmosphere!) is at F45! When you look at cost vs what you get… it's totally an investment! I just show up, coaches show me proper form AND I have a TV to watch the exercise again if I'm unsure or ask a coach if they're not helping someone else… and I'm partway to my goal by putting on 8 pounds of muscle in only a few months. If you have a goal to put on weight or take it off, F45 can help!!! P.S. You might just have fun while you're at it!!!
I was struggling to regain motivation to workout for a over a year and was hesitant to commit to spending so much money on something that I have quite a bit of experience doing on my own, but these classes have been well worth the expense. The instructors are wonderful, the environment is very inviting, and a 45 minute workout feels very attainable even when motivation is low. If you are looking to jump start your motivation or just to build a fun community, then this is great place to start.
This really is an incredible place to work out! Group fitness with awesome music, fantastic trainers and new exercises daily. I like having trainers available for every workout since I tend to be a slacker when working out on my own. I also love that they show modifications for the exercises which is extremely helpful, especially in the beginning. Everyone here is super friendly and encouraging. So so glad I joined! My fitness journey would 100% suck without this place!!
Update: over a year later and still absolutely loving it! The F45 team is the best. I have attended a couple of classes as part of a free trial and am loving it! I so appreciate that they give you 7 days to try it out before making a commitment, I will definitely be purchasing a membership. Coaches are extremely friendly and motivating, I felt welcome as soon as I walked through the door. Challenging workouts and very nice and clean facilities. Thanks F45!
EPIC. I've always enjoyed working out but rarely found the time to get it done but F45 changed that for me. They have tons of classes that fit any schedule, the workouts are fun and different and it works. I've never burned more calories in a workout before. My wife is sick of me flexing in the mirror. All the coaches are super helpful at making sure I am doing the workouts correctly, they push me to lift more when it looks too easy and push me to work harder. Biggest thing is they call me out when I don't show up. Do it! You'll love it. 6am class is 🔥
I've been with F45 since they opened and have never been more happy! The staff is amazing, friendly and helpful. The classes are challenging and effective for all fitness levels. I'm so happy I found this gym and community of like minded friends.
Great experience. Coaches are fantastic. Members are very welcoming and friendly. The owners are great people…..and it will get you in excellent shape !!! What's not to like ?
What a great place. The facility is always clean. The Staff and Coaching Team are encouraging and willing to support everyone with their fitness goals. The community is friendly, positive, and energetic for sure. We absolutely love working out at this place and with these people!!!
TEAM TRAINING
LIFE CHANGING
TEAM TRAINING
LIFE CHANGING
TEAM TRAINING
LIFE CHANGING
TEAM TRAINING
LIFE CHANGING
TEAM TRAINING
LIFE CHANGING
TEAM TRAINING
LIFE CHANGING
MEET THE TRAINERS
OUR FITNESS TEAM
F45 trainers are in a league of their own, delivering the expert guidance and unconditional support of a one-on-one personal trainer. Get to know the F45 trainers near you before your next F45 class.
Alison Orozco-Rush
Trainer
Becca Correa
Studio Manager
Candace Fetuao
Head Trainer
Daniel Welcome
Trainer, Membership Advisor
Laura Rutledge
Owner, Studio Manager
READY TO JOIN THE SQUAD?
LET'S GO!