Functional Fitness. Real Results.
F45 NORTHBOROUGH
F45 TRAINING NORTHBOROUGH offers functional group fitness classes, reimagined. We are more than just a gym. We are the total wellness solution for every body. With 5,000+ dynamic, energy-packed movements and over 80 workouts offered, we help you unlock your inner athlete. We are the workout you always wanted with the team you didn't know you needed. New to F45 Training?
Team Training. Life Changing.
F45 NORTHBOROUGH
Mark Wahlberg said it best: It's not about mirrors, mood lights or followers. It's about what you did with your time. It's about how you feel when you are finished and who encouraged you along the way. Ready to join the movement?
Team Training. Life Changing.
F45 NORTHBOROUGH
F45 Training is functional group fitness, with the effectiveness and attention of a certified personal trainer. Our workouts are designed for every body. Join us to find out why we are rated #1 Gym by Men's Journal in the US and Canstar Blue in Australia.
Class Schedule
Experience the power of F45 NORTHBOROUGH today and start feeling the difference today.
THE RESULTS ARE IN
SUCCESS STORIES
MENTAL & PHYSICAL HEALTH
After 3 years and 500+ classes into F45, my mental and physical health have drastically improved.
STAMINA AND ENDURANCE
My focus is building stamina and endurance to combat multiple sclerosis. I'm 61 and in the best shape of my life.
WEIGHT LOSS
I've lost 187 lbs since my very first workout in 2021. F45 has become the most joyful place in my life.
BODY TRANSFORMATION
Through F45, I have lost 13 lbs of fat, gained 4 lbs of muscle and descreased my body fat by 6%.
CANCER SURVIVAL
Three years ago I got cancer. It was my F45 family and friendships that got me through it. My team is always there for me.
FEEL THE LOVE
WHAT OUR MEMBERS SAY ABOUT US
I joined f45 Northborough 125 classes ago in December… since joining, working out here has become my drug of choice… hitting 160+ BPM for 45 minutes is amazing. The coaching staff is so great and experienced and knowledgeable. I've corrected my form on some workouts of mine, but also have improved my fitness level ten fold. In 6 months, Ive gained 8 pounds while losing 3% body fat and am the most fit and strong I've ever been.
Great work out place for me. I started for my mental health thinking of going maybe twice a week and I ended up sigining up for unlimited calsses and I go 4 times, 5 times, even 6 times a week. Owners are full of energy, trainers are so encouraging, attentive and helpful during the entire 45 min classes alsways correcting your posture when needed, etc. It is not just a gym, it is a community where people actually take time to know you and they are very encouraging as well.
I was skeptical at first. I've always been a very athletic person. I was a cheerleader and gymnast my whole life, 8 years as a youth coach and worked in a Golds Gym for over 9 years. In March I was getting over an injury which required surgery. I was unable to workout for quite some time and needed something that would spark the fire in me again! I was walking by the F45 store one day with my daughter and seen a class getting out, they looked happy and exhausted. Well I went home and looked it up, I was rather intrigued. The next week I took a chance. I signed up for the $14 week special. After a few days in I was hooked! The people were great.. My natural competitiveness against myself was alive again. I highly recommend for people new to fitness as well as long time athletes!
I haven't been to the gym since Nov of 2018. I started my try out and I love it! It's so different from the other gyms around. They motivate you as well! Functional exercises are not easy but they are not impossible to learn either 😉 Great team!!
The F45 team has helped me get back on track after being away from the gym for a while. The owners and coaches are amazing. The energy at F45 Northborough is unbeatable. Classes are challenging and fun. So glad I joined. I highly recommended everyone who has been thinking of joining, to join. You won't regret it!
Great place to stay fit and have fun. I decided to try it out since I was fed up doing same 20 exercises every week in the gym . It's been a month since I joined, So far I don't regret it. Love the energy this place has. Now waiting to see some visible results 😊
TEAM TRAINING
LIFE CHANGING
TEAM TRAINING
LIFE CHANGING
TEAM TRAINING
LIFE CHANGING
TEAM TRAINING
LIFE CHANGING
TEAM TRAINING
LIFE CHANGING
TEAM TRAINING
LIFE CHANGING
MEET THE TRAINERS
OUR FITNESS TEAM
F45 trainers are in a league of their own, delivering the expert guidance and unconditional support of a one-on-one personal trainer. Get to know the F45 trainers near you before your next F45 class.
chris halvorsen
Trainer, Membership Advisor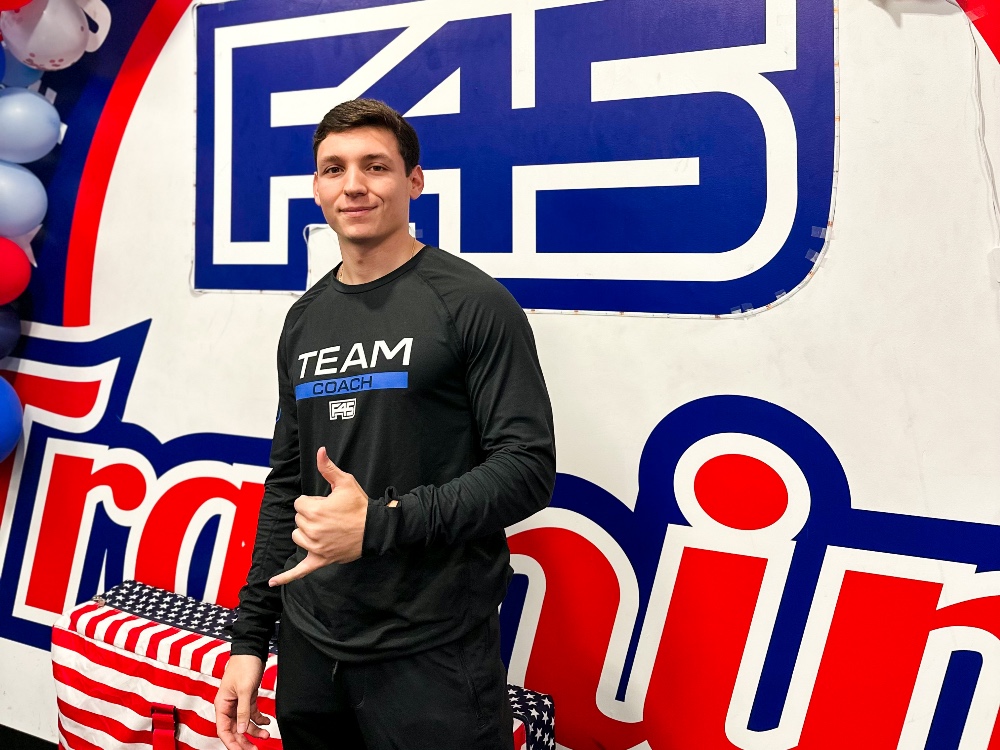 Coach Emily
Trainer, Head Trainer, Studio Manager
Sam Nasrah
Owner, Studio Manager
READY TO JOIN THE SQUAD?
LET'S GO!