Functional Fitness. Real Results.
F45 PORTSMOUTH NH
F45 TRAINING PORTSMOUTH NH offers functional group fitness classes, reimagined. We are more than just a gym. We are the total wellness solution for every body. With 5,000+ dynamic, energy-packed movements and over 80 workouts offered, we help you unlock your inner athlete. We are the workout you always wanted with the team you didn't know you needed. New to F45 Training?
Team Training. Life Changing.
F45 PORTSMOUTH NH
Mark Wahlberg said it best: It's not about mirrors, mood lights or followers. It's about what you did with your time. It's about how you feel when you are finished and who encouraged you along the way. Ready to join the movement?
Team Training. Life Changing.
F45 PORTSMOUTH NH
F45 Training is functional group fitness, with the effectiveness and attention of a certified personal trainer. Our workouts are designed for every body. Join us to find out why we are rated #1 Gym by Men's Journal in the US and Canstar Blue in Australia.
Class Schedule
Experience the power of F45 PORTSMOUTH NH today and start feeling the difference today.
THE RESULTS ARE IN
SUCCESS STORIES
MENTAL & PHYSICAL HEALTH
After 3 years and 500+ classes into F45, my mental and physical health have drastically improved.
STAMINA AND ENDURANCE
My focus is building stamina and endurance to combat multiple sclerosis. I'm 61 and in the best shape of my life.
WEIGHT LOSS
I've lost 187 lbs since my very first workout in 2021. F45 has become the most joyful place in my life.
BODY TRANSFORMATION
Through F45, I have lost 13 lbs of fat, gained 4 lbs of muscle and descreased my body fat by 6%.
CANCER SURVIVAL
Three years ago I got cancer. It was my F45 family and friendships that got me through it. My team is always there for me.
FEEL THE LOVE
WHAT OUR MEMBERS SAY ABOUT US
Amazing energy, love F45 and the workouts they have to offer. Was visiting town and decided to pop into a Saturday workout. Alicia and Rose created a fun energetic environment and gave me a good push. 10/10 would recommend to anyone looking to challenge themselves and have fun while doing it.
I have nothing but amazing things to say about this gym and their coaches. My sister, who lives in California, introduced me to a F45 class while she was visiting and I will be forever grateful she dragged me to that class one Sunday morning! Hannah and Rose have been nothing short of welcoming, supportive, and motivating since the second I walked through those doors. Aaron will never pass on an opportunity for a high five and has an amazing attention to detail. It can be hard to change your weight with such a fast paced workout, but somehow Aaron will be there with your adjustment before you even realize what that adjustment is. This gym is packed full of friendly faces and an amazing sense of community you won't find anywhere else on the seacoast!
Coach Rose and Coach Hannah have inspired me to reconnect with fitness. In my adult life it's been hard to find a workout I truly love and F45 changed that. Great group, great coaches, great workouts all around!
This is my happy place… and also the place that kicks my a**. The trainers here are amazing! They are knowledgeable, unbelievably supportive of your goals, and will push you to be your best self. Hulk, the unofficial mascot, is the sweetest pup & my favorite member, but everyone else is great too. A fun group atmosphere; no judgements here. Go team!
Hannah, Rose, Nicole, Natalie, Aaron and Alicia are all so amazing. Thank you so much! They're so encouraging and push you further than you think you can. Best, workout ever. It's challenging but never boring. Just try it!
Best workout in town! I highly recommend it. The challenging workouts, consistent schedule, and committed trainers at F45 Portsmouth keep me coming back. This gym is welcoming to people in all stages of their fitness journey. You manage how hard you push yourself, how heavy you lift and how fast you go. As a mom of three littles I really appreciate having this space (with its huge windows and lots of natural light) to focus on my health and well being. The owners really care and are consistently gathering feedback to make this the best community possible. Try it, you won't regret it.
If you are thinking about joining, stop it! Do it!!! You will not regret it. I had an amazing experience at this location this week. I love how the instructors pushed me from start to finish! While encouraging me to finish the sets as my body began to fatigue. The music is a vibe and the location is perfect. Not to mention, all of the folks I worked out with were super nice!!! Definitely looking forward to returning.
One of the best studios to come to Portsmouth! All the coaches are so friendly, helpful, inspiring and motivating!! Coach Rose and Hannah have created such a supportive and fun atmosphere where they encourage each of us daily to go for the heavier weights. They keep me accountable and consistent with working out which was so hard for me. Definitely worth trying!!
Best gym ever, new workouts every day, I always leave feeling like I really accomplished a great workout. I've been going for 2 months now and it's the best I have felt for a long time. The instructors are all amazing and keep me motivated throughout the class. Great for all levels and they are fantastic at modifying exercises for everyone to achieve success.
I love F45 Portsmouth! I've always struggled staying consistent with working out but F45 has helped tremendously. The classes are fun and the rotation schedule switches things up to keep it interesting. The trainers, Nikki, Alicia, Natalie, and Aaron, are always motivating you to do your best and help you find a way to complete any exercise. Rose and Hannah, the owners, are so welcoming and foster an amazing atmosphere for anyone and everyone to grow and challenge themselves!
Hannah and the entire coaching staff at F45 are top notch. Not only do they encourage you to push yourself out of your comfort zone they have built an inclusive and diverse community in Portsmouth
Best gym around hands down! All of the coaches are so great, super helpful and motivating!! They get to know everyone on a personal level and make you feel like this is your second home. 10/10 would recommend!
My first class at this F45 studio was awesome! 100% loved the workout. Hannah and Rose both did an amazing job coaching us through. You can tell they love what they do and care about the people here!
Amazing Miami Nights workout this morning with coach Hannah and coach Rose! They are always motivating and pushing me to be better. They also make sure my form is correct and are there to answer any questions. Every time I finish a workout, I feel proud to be a member of such a great team and workout program!
F45 Portsmouth is hands down the best gym around! Rose, Hannah, and all the coaches are extremely motivating and keep you coming back for more each week. There is plenty of variety in the quick 45 minute workouts and no two workouts are the same.
I am not typically a group fitness type person until I joined F45 Portsmouth! The environment is so motivating and everyone is very encouraging. The owners, Hannah and Rose, make everyone feel so welcomed, you'd think you'd have known them for years!
I just started F45 last month, Rose and Hannah are amazing!! The work outs are challenging but rewarding. The environment is very friendly. From day 1 I felt part of a big family. I love the fact that the owners Rose and Hannah are on site and coaching. The customer service is exceptional!! You actually feel like you have one on one coaching!
TEAM TRAINING
LIFE CHANGING
TEAM TRAINING
LIFE CHANGING
TEAM TRAINING
LIFE CHANGING
TEAM TRAINING
LIFE CHANGING
TEAM TRAINING
LIFE CHANGING
TEAM TRAINING
LIFE CHANGING
MEET THE TRAINERS
OUR FITNESS TEAM
F45 trainers are in a league of their own, delivering the expert guidance and unconditional support of a one-on-one personal trainer. Get to know the F45 trainers near you before your next F45 class.
Alicia McGoldrick
Trainer
Hannah Taylor
Owner, Studio Manager
Hulk Taylor
Membership Advisor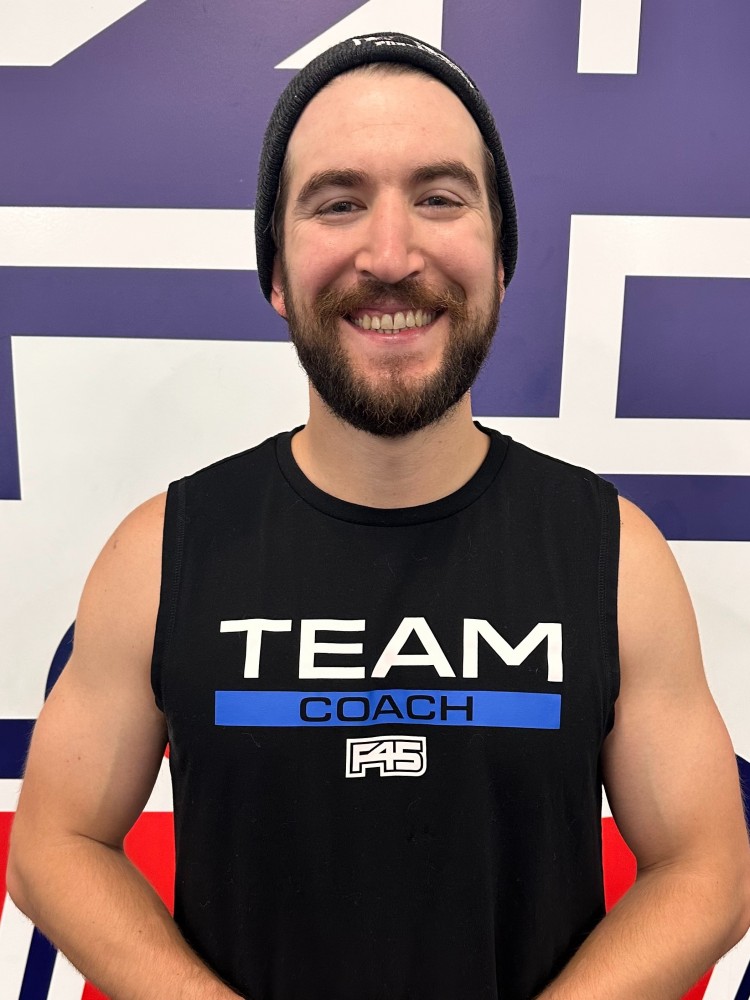 Rose Harrington
Head Trainer, Owner
READY TO JOIN THE SQUAD?
LET'S GO!