Functional Fitness. Real Results.
F45 YORBA LINDA NORTH
F45 TRAINING YORBA LINDA NORTH offers functional group fitness classes, reimagined. We are more than just a gym. We are the total wellness solution for every body. With 5,000+ dynamic, energy-packed movements and over 80 workouts offered, we help you unlock your inner athlete. We are the workout you always wanted with the team you didn't know you needed. New to F45 Training?
Team Training. Life Changing.
F45 YORBA LINDA NORTH
Mark Wahlberg said it best: It's not about mirrors, mood lights or followers. It's about what you did with your time. It's about how you feel when you are finished and who encouraged you along the way. Ready to join the movement?
Team Training. Life Changing.
F45 YORBA LINDA NORTH
F45 Training is functional group fitness, with the effectiveness and attention of a certified personal trainer. Our workouts are designed for every body. Join us to find out why we are rated #1 Gym by Men's Journal in the US and Canstar Blue in Australia.
Class Schedule
Experience the power of F45 YORBA LINDA NORTH today and start feeling the difference today.
THE RESULTS ARE IN
SUCCESS STORIES
MENTAL & PHYSICAL HEALTH
After 3 years and 500+ classes into F45, my mental and physical health have drastically improved.
STAMINA AND ENDURANCE
My focus is building stamina and endurance to combat multiple sclerosis. I'm 61 and in the best shape of my life.
WEIGHT LOSS
I've lost 187 lbs since my very first workout in 2021. F45 has become the most joyful place in my life.
BODY TRANSFORMATION
Through F45, I have lost 13 lbs of fat, gained 4 lbs of muscle and descreased my body fat by 6%.
CANCER SURVIVAL
Three years ago I got cancer. It was my F45 family and friendships that got me through it. My team is always there for me.
FEEL THE LOVE
WHAT OUR MEMBERS SAY ABOUT US
I cannot say this enough and I'll say it again, the coaches & owners at F45 are what really makes this place special. They're knowledgeable, enthusiastic, and always pushing you to be your best. They make sure you're doing the exercises correctly and safely, and they provide plenty of encouragement along the way. Plus, they keep the energy level high with great music and plenty of positive vibes. They genuinely care about you and your goals- and best of all it feels like you are part of a family.
Joined F45 about 2+ weeks ago and from the very beginning it's been nothing but great! Everyone there are SO welcoming, encouraging and genuinely care about your progress. If you are debating on joining STOP and just go, I promise you won't regret it.
I've been going since March 2023, and I absolutely love it. I already see the results and how much stronger I've gotten! Chris, and Henry the owners and the coaches Jesse, Izzy and Andrew, Cole are all super friendly, knowledgeable and helpful, and they care, remember you and motivate you. Chris has been following up with me constantly since I joined. I highly recommend F45 in Yorba Linda…I am excited to be part of this family.
Such a great time at F45!! Welcoming and friendly environment, competitive if you want it to be, great workouts! It's been kicking my butt and I love it.
Beyond the workout itself, this gym also has THE best little gym community. All the members become your friends and everyone makes the place such a positive and inspiring environment to workout in! The high fives & "good jobs" between workouts is only a small yet big part of the support you get from here!
When I initially signed up at F45 YL, I assumed I would only attend for a month or two to get in better shape before moving on to something else. Fast forward to today, I attend classes 5-7 days a week and it has become a major part of my morning routine. It actually feels weird to miss a class. How effective are the classes, you might ask? Well my goal was to tone up a bit and put on a little muscle. As of today I've lost about 5% of my body fat (lower than pre-Covid) and I've gained nearly 10 pounds of muscle.
TEAM TRAINING
LIFE CHANGING
TEAM TRAINING
LIFE CHANGING
TEAM TRAINING
LIFE CHANGING
TEAM TRAINING
LIFE CHANGING
TEAM TRAINING
LIFE CHANGING
TEAM TRAINING
LIFE CHANGING
MEET THE TRAINERS
OUR FITNESS TEAM
F45 trainers are in a league of their own, delivering the expert guidance and unconditional support of a one-on-one personal trainer. Get to know the F45 trainers near you before your next F45 class.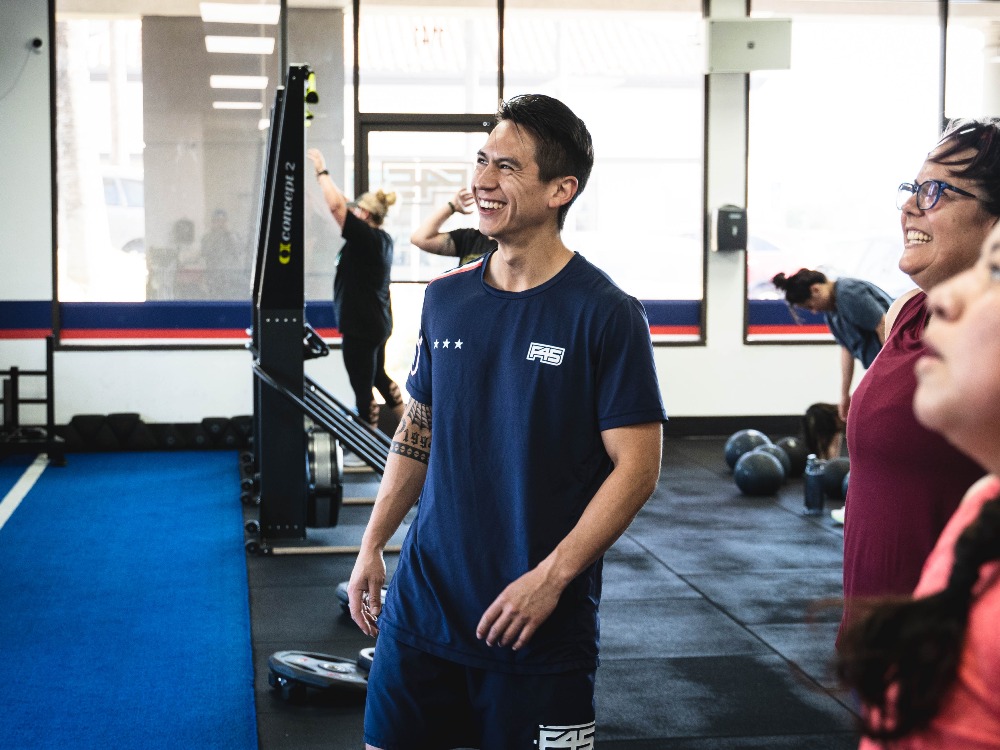 Misty May-Treanor
Trainer
READY TO JOIN THE SQUAD?
LET'S GO!