Functional Fitness. Real Results.
F45 RANDWICK
F45 TRAINING RANDWICK offers functional group fitness classes, reimagined. We are more than just a gym. We are the total wellness solution for every body. With 5,000+ dynamic, energy-packed movements and over 80 workouts offered, we help you unlock your inner athlete. We are the workout you always wanted with the team you didn't know you needed. New to F45 Training?
Team Training. Life Changing.
F45 RANDWICK
Mark Wahlberg said it best: It's not about mirrors, mood lights or followers. It's about what you did with your time. It's about how you feel when you are finished and who encouraged you along the way. Ready to join the movement?
Team Training. Life Changing.
F45 RANDWICK
F45 Training is functional group fitness, with the effectiveness and attention of a certified personal trainer. Our workouts are designed for every body. Join us to find out why we are rated #1 Gym by Men's Journal in the US and Canstar Blue in Australia.
Class Schedule
Experience the power of F45 RANDWICK today and start feeling the difference today.
THE RESULTS ARE IN
SUCCESS STORIES
I don't think I could go if it wasn't for the trainers!
I love it because of the trainers, they're wonderful, always so supportive and encouraging. I remember thinking, "I can't do this, I'm so sore' now I can train everyday.
Fitter & stronger than ever before!
I love challenging myself & the change every 4 weeks is great. The trainers really push me to my limit & I can feel myself getting stronger than I've ever been before.
I love F45 Randwick!
Amazing & fun trainers, they just keep on pushing you. Do your workout, then do your sauna & pilates downstairs & then shopping – so convenient!
Beautiful community – I love it!
I love F45 because I absolutely love everyone I get to train with & I definitely love all the trainers here at Randwick, it's such a good community.
FEEL THE LOVE
WHAT OUR MEMBERS SAY ABOUT US
If you're looking for a place to train and have a great time while doing it, look no further than F45 Training Randwick! The Studio Manager Bel and Trainers are the best in the business and they're dedicated to meeting you where you are at and assisting you to achieve/exceed your goals, whether they be fitness/training/nutritional!
I absolutely love training at F45 Randwick, it's such a fun atmosphere and always feel great after my workout! All the trainers are super welcoming, friendly, helpful and are always encouraging and advising you throughout workouts, while pushing you to your limits which is great! They really make you feel part of the F45 Randwick family!
I absolutely love training here. It's my favourite F45 and the best gym I've ever trained at. Friendly trainers and a great studio that has natural light. Each class has a great atmosphere and there's no attitude like so many gyms.
One of the first things I love is the is the variety of classes, no work out is the same. This is great as it keeps the body guessing and adapting so you don't hit a training plateau. Another thing is that if you live a busy life its great to fit a workout in as their schedule is quite big! The community is great between the members and the trainers. The trainers push you really hard when you need it, correct your form and generally make sure you're getting the best out of your workouts. And the the thing – the view from the studio is amazing!!
TEAM TRAINING
LIFE CHANGING
TEAM TRAINING
LIFE CHANGING
TEAM TRAINING
LIFE CHANGING
TEAM TRAINING
LIFE CHANGING
TEAM TRAINING
LIFE CHANGING
TEAM TRAINING
LIFE CHANGING
MEET THE TRAINERS
OUR FITNESS TEAM
F45 trainers are in a league of their own, delivering the expert guidance and unconditional support of a one-on-one personal trainer. Get to know the F45 trainers near you before your next F45 class.
Bel Cocking
Owner, Studio Manager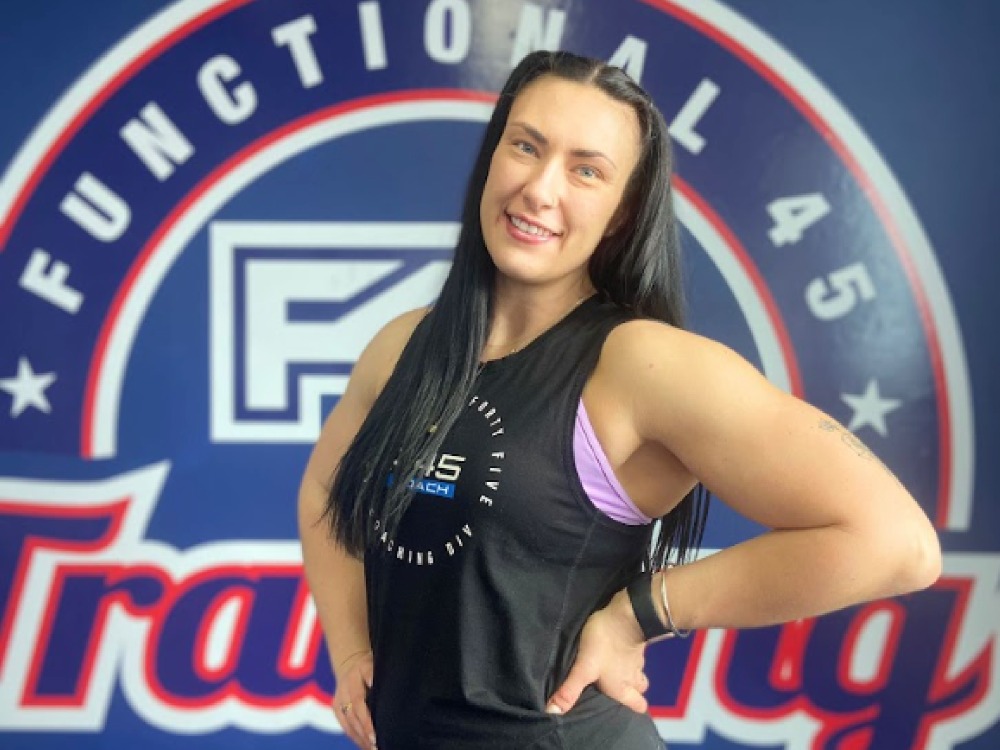 Belynda Jane
Studio Manager
Sharon Barroca
Head Trainer
READY TO JOIN THE SQUAD?
LET'S GO!